Term 4 Week 10 – 14th December 2022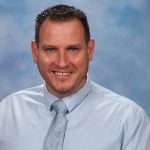 Dear Families and Community Members,
It is with a great sense of contentment that I have just completed my first full year as your principal. Each morning that I enter the school grounds, I feel humbled to have been chosen to lead this beautiful community. As we have now entered our second decade of operation, our college has truly grown into a unique and special place; a place of memory and a place of tradition, where Christ is the ever-present unseen teacher. Jesus is Emmanuel, God is with us.
A big congratulations to all staff and students for coming through and completing with success, what started out to be a quite challenging year. I would like to take this opportunity to wish everyone in our College community a safe and joy filled Christmas. I look forward to welcoming you all back in 2023.
God bless,
Lucas Hurley
Principal
---
Arts News
DON'T FORGET TO SIGN UP FOR MUSIC LESSONS FOR TERM 1 2023!
You have 3 days left to secure your spot for 2023 – cut-off date for guaranteed acceptance is 16th December 2022.
Photos from Arts Week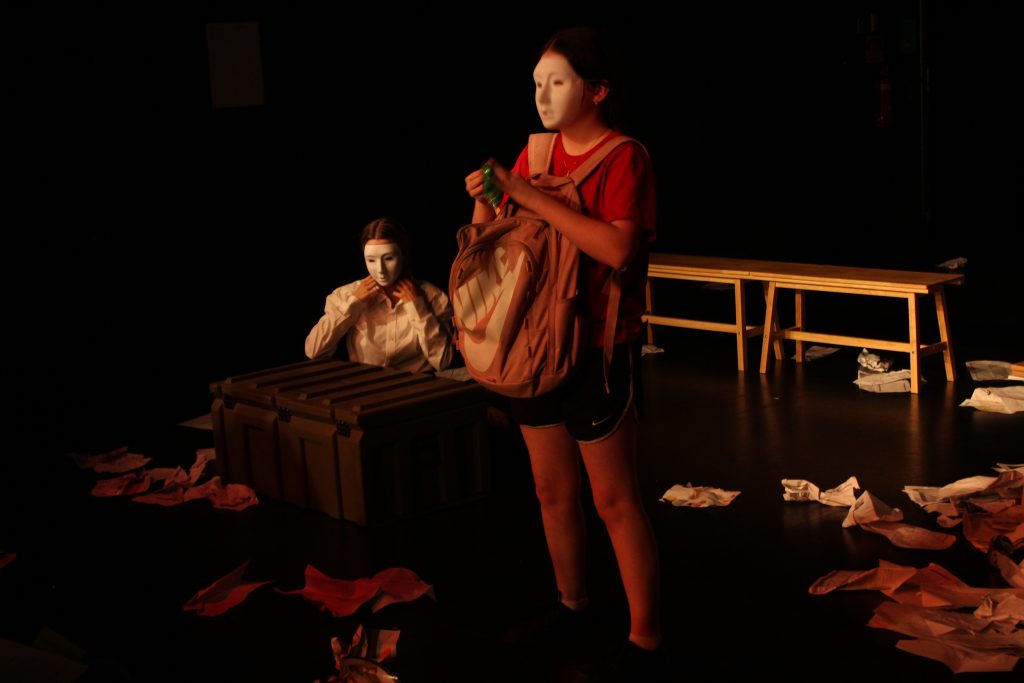 New Bubbler Murals
Our Aboriginal and Islander students have had the great opportunity and pleasure of partnering with Larrakia artist Trent Lee as part of the Larrakia and MacKillop Art Project.  Many of you will have noticed the finished product – beautiful, colourful murals, when passing by the drink taps on campus.  Not only does this strengthen our bond with the Larrakia people, and the educational elements involved in authentic art experiences, but we are also beautifying MacKillop Catholic College through visual representations of culture.  Students and staff are looking forward to more of these partnerships in the future. 
---
Languages News
Scavenger Hunt in City
Year 7 Indonesian Mask Making
---
Sports News
Congratulations McGrath house on being the overall inter-house points winner for 2022.
---
Inclusion News
Orientation Morning
The Inclusion Orientation Morning was a great success – a number of students said they didn't want to leave at the end of the day! Some activities included a get-to-know-you time in the morning, Science activities on identifying rocks by working out their density (turns out more than one incoming year 7 has a rock collection!) and an Amazing Race with fantastic prizes for being the first to race around the school as a team. Well done to all the visiting students who had wonderful conduct to each other and all the staff – we look forward to having you next year!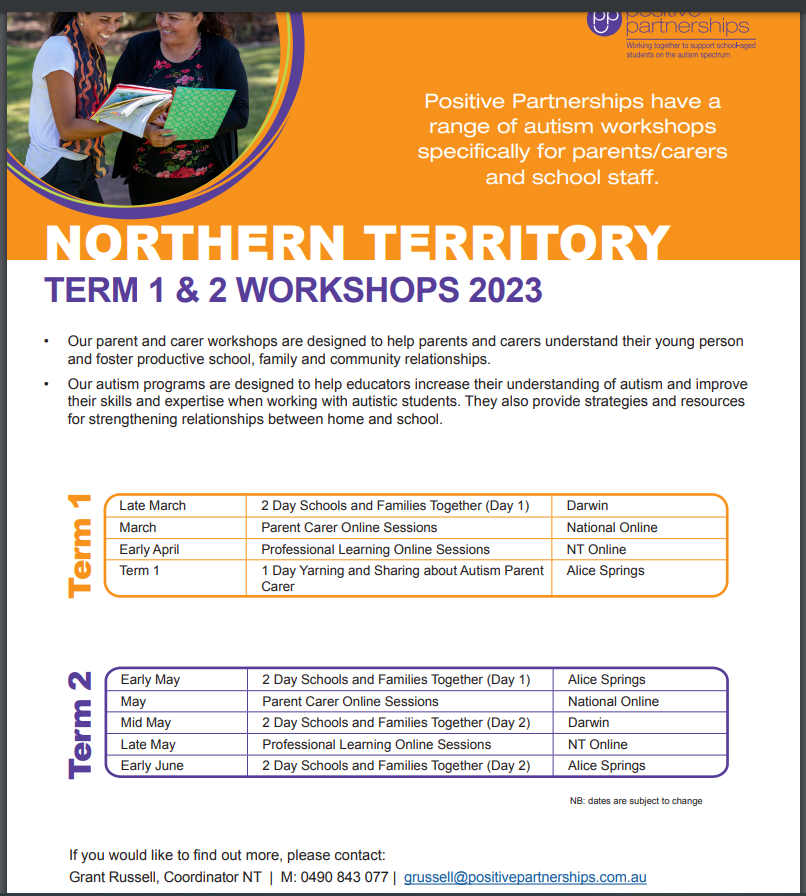 ---
Awards Events
Congratulations to all award winners. Photos can be found on our facebook page.
---
Graduation
Congratulations to the Graduates of Year 12 2022.
---
Catholic Identity News
Vinnie's Christmas Appeal
Thank you to everyone who contributed items for St Vincent De Paul to distribute to needy families in our community this Christmas.
---
Outdoor Education News
Year 8 Fishing
Year 9 Fishing
---
Community News
Uniforms
Reminder: We no longer stock any uniforms at the College. All items are now available from Lowes Gateway.
Phone Policy
It is policy at MacKillop that personal phones cannot be used during school time unless permitted by a teacher for a specific task, such as recording video for an assignment. The front office has a phone that can be used by students to contact parents if need be. The teachers have the right to confiscate phones from students or ask students to hand them in to the front office if they see this policy being broken. These rules will continue to be enforced in 2023.
Minecraft Camp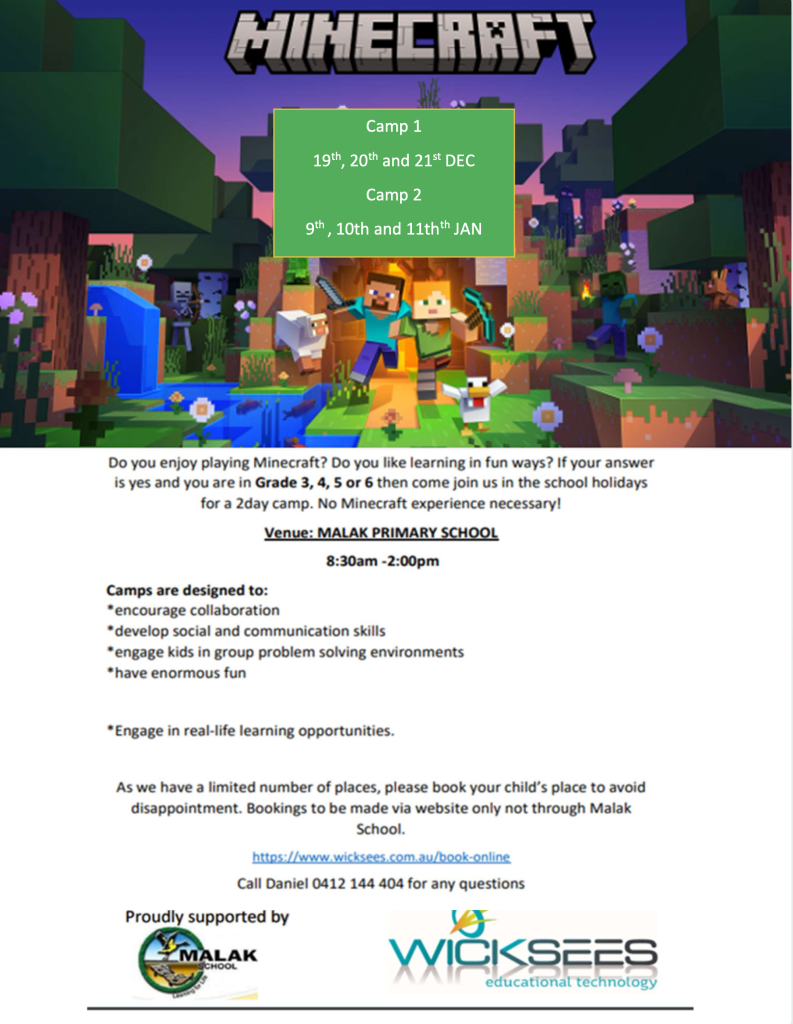 Youth Workforce Advisory Sessions
Online Safety
Information for families from the Australian Federal Police
The Australian Federal Police through the Australian Centre to Counter Child Exploitation is seeing a concerning global trend of teenage males being targeted to send explicit images of themselves and then blackmailed. This is called sexual extortion, or sextortion.
The AFP is urging families to have important safety conversations ahead of the school holidays to prevent young people from becoming victim. This crime can have serious wellbeing and psychological impacts.
How does sextortion start?
Unsolicited friend and follow requests on social media
Direct messages on one app and then being asked to keep chatting on a secondary app
Conversations suddenly and quickly becoming sexualised
Requests for sexualised images or content.
What can families do?
Have open and regular conversations about your child's online activities and interactions
Know what platforms, apps and games they are using and who they are interacting with
Remain open and approachable, victims will be reluctant to come forward if they feel they will be punished or blamed
Ensure your child knows that it is okay to leave conversations if they feel uncomfortable or unsafe
Support your child and know how to respond. The Online blackmail and sexual extortion response kit has been created to recognise sextortion and get help.
The Australian Centre to Counter Child Exploitation is here to keep young people safe from online sexual exploitation and abuse.
You can make a report via accce.gov.au/report
For further information, resources and advice visit thinkuknow.org.au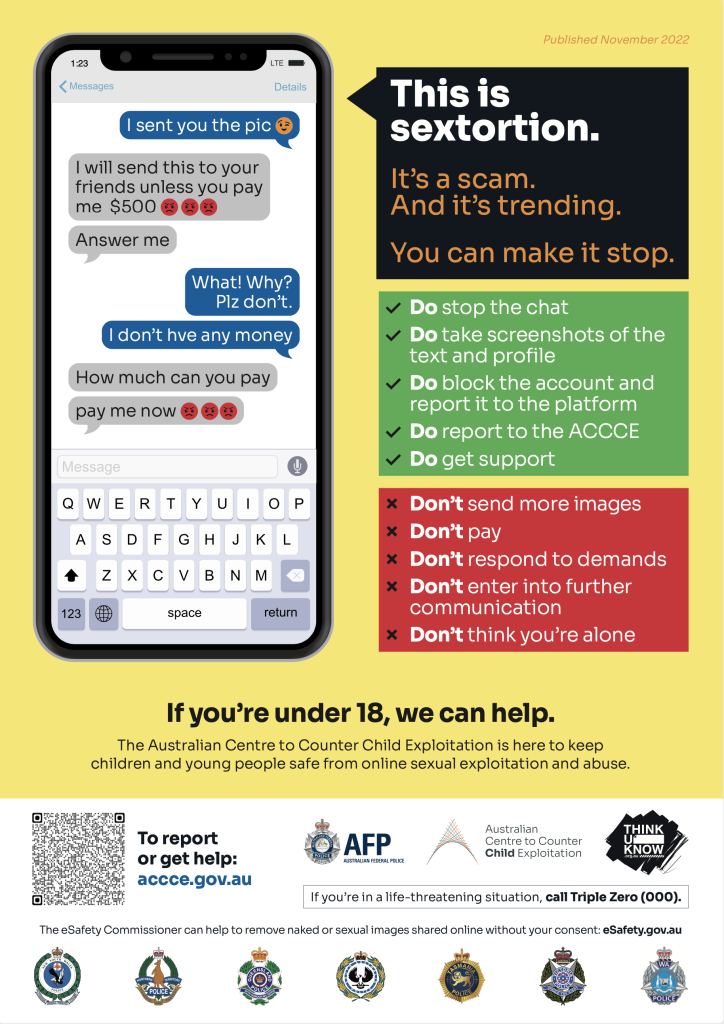 ---