Leading Learners at MacKillop

The Eagles Programme – Leading Learners 2023
A sincere welcome all students to the Eagles Program 2023. We hope your learning at MacKillop Catholic College is fulfilling. We hope that the college values can guide you in your learning through a range of academic tasks, that are both challenging and meaningful. In our 2023 program, the main goal is to enhance your self-awareness and become aware of your true potential as a student: in the classroom and in the community. is school. A fundamental expectation of "The Eagles" program is the respect for MacKillop Catholic College values.
The Eagles program will explore four integrated themes:
Term 1 – Academic
Term 2 – Social
Term 3 – Personal
Term 4 – Career: "Life after school"
Our 2023 programme includes:
Personal journal:
Students will keep a reflective journal based on their experiences in the Eagles program. The journal will be a historical record of student's experiences and learning. The purpose for students is to reflect and develop their learning in a 'holistic' manner: across all subjects.
Logic Mills:
Students will engage in a sequence, range of activities and games that develop cognitive thinking. Problem-solving and communicating in small groups are the key.
Art:
The creative arts – Music, Art, Drama, Film: can be an essential part of our living day-to-day.
We want to value 'taking a risk' and trying something new. Our primary goal is to encourage self-expression
Chess:
The Eagles have a tradition of playing chess. Understanding the rules, learning new strategies: we apply it to academic learning.
Meaningful learning:
"understanding the world"
Students will be presented with a wide range of documentaries, films, music and guest speakers that present new insight: perspectives for students.
---
The Eagles 'Leading Learner' Program fosters a collaborative learning environment where students can reflect on their skills and knowledge. The program reviews enrolments at the start of the academic year for each level.  Throughout the year, students nominated by teachers on the basis of academic achievements will also be considered for enrolment in The Eagles Program.
If you have further inquiries, please contact MacKillop Catholic College.
Mitch Musulin – Leading Learners Coordinator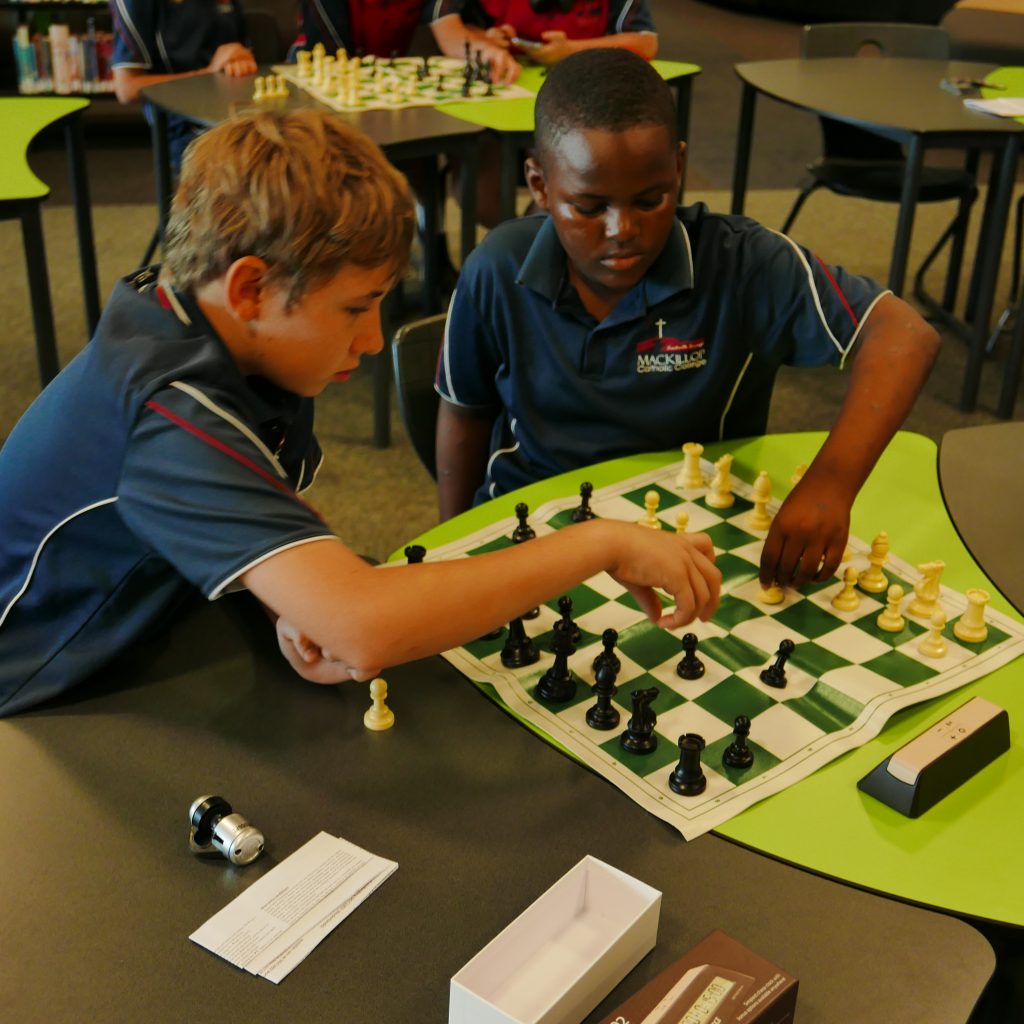 ---
Leading Learners is a partnership involving MacKillop Catholic College, the family and other agencies. Students are identified as being suitable for the programme due to parent nomination or student nomination, with current or previous teacher confirmation, made via a diagnostic form.
---
Leading Learners Achievements in the Community
ABC Radio did a segment on MacKillop's Gifted and Talented Programme in September 2018. The audio of that segment can be listened to here:
---
In 2020 as part of the NT Government's highlighting of Victory in the Pacific, commemorating the end of World War II 75 years ago, two of our students from the Gifted and Talented Group featured in a short documentary recently. Ella Day and Zoe Grant, both in Year 10, were hired by a film company as actors to appear in the feature. Well done both girls!
---
How will my student benefit from the Leading Learners Programme?
Having your student placed within the Leading Learners programme will likely improve their marks across their subject range. It will also prepare them to face the world beyond school, by offering them the chance to obtain more skills and abilities than are offered to the general student body.
By participating in mentally-stimulating activities, students develop their capacities in all sorts of ways. For example, recent activities include:
Chess – annual competitions, and often an inter-school competition
A stock market simulation game
Drone programme – we have a squadron of 24 drones which we use in a number of ways
Trebuchet – we built two operational medieval machines, and tested them in competition
Solar car building – recently students were equipped with a solar panel, a gearbox, and an engine, and designed their own solar cars with recycled materials
Virtual Reality
What will the Programme Involve?
The programme provides minimal disruption to the students of the group, and does not provide extra work for them. Rather, a Pastoral Care class arranged as a 7-12 cohort, supervised by male and female teacher-coordinators, operates a programme of visiting speakers, intellectual activities, and educational assistance. This also embraces enrichment sessions outside timetabled classes in Mathematics, English, and Science. Such sessions can  accelerate student achievement in the normal timetabled subjects. ​
Eagle Group students are attached to another Pastoral Care class, to which they join for assemblies, camps, and the like.
Entry/Further Information
Entry is only by invitation. Please contact the Leading Learners Coordinator, Mr Mitch Musulin​, at mitch.musulin@nt.catholic.edu.au or via post at PO Box 2608 Palmerston, NT 0831.​
---
Attempting Senior Subjects from the Middle Years
Eagle Group students are often invited to tackle a subject from, for example, the Stage 1 subjects offered in Year 11. Such a program can help them alleviate stress in the senior years by obtaining early points.
---
Chess Competition
The MacKillop Leading Learners unit fields a team in the annual local chess tournament. If you are interested in taking part, speak to Mr Musulin.
---