Information for Defence Families
Meet our Defence Student Mentor (DSM) – Mick Panasewycz
Primarily, I am not a teacher though I have some experience as a military instructor and my wife was a teacher for ten years. I am here to support the students with parents in the Australian Defence Forces (ADF).  My main tasks are as follows:
Assisting children and families to integrate into the new school and local community,
Coordinating welcome and farewell community activities for relocating families,
Smoothing the transition between schools and different education systems (including minimising the impact of relocation on children's learning outcomes),
Monitoring the social, emotional and academic well-being of Defence students,
Helping students develop self-confidence, self-reliance and resilience,
Directing students to programs, services or opportunities that suit their needs,
Enhancing awareness and appreciation of the unique Defence lifestyle in schools and communities, and
Providing support to children during times of parental absence.
To do this I am available Monday and Tuesdays 0800-1400 for face to face contact or I can be contacted by phone, 042 8880188 or e-mail at other times. I am usually located at the Inclusion Support Centre but am available to have meetings anywhere. 
I am able to provide advice to parents and teachers on how to gain appropriate support for Defence students through the various Defence and civilian support organisations. This includes support for special needs and education support through Defence Community Organisation (DCO), and counselling support (with parental approved) through Open Arms (previously VVCS), among others. 
I have arranged for a Defence club for interested students, Defence or otherwise, at lunchtime, Tuesdays, at the Inclusion Support Centre where the kids can meet up with others with similar experiences. Please encourage any Defence kids in your class to attend at least once. Any students that are interested in a Defence career can also come to see me for advice or support. 
I will also provide support to teaching staff in arranging Defence related activities such as visits by Defence guest speakers, Defence recruiting visits and ANZAC/ Remembrance Day activities.
I am a long-serving soldier with many years in the Army, mostly as a medic, several operational deployments, and too many posting cycles under my belt. As such, I have a lot of experience with the hardships that Defence families face from frequent moves; a parent being away for long periods; or the problems faced by injured members, both physical and mental, and how they affect a family. I am happy to discuss with teachers the issues that Defence members may be experiencing and how it can affect families. I extend my support to any staff member that is personally being affected by Defence issues from being a sympathetic ear in the staff room to providing advice on dealing with the myriad of Defence problems affecting your family.
I am looking forward to meeting you all so please don't be a stranger.
Regards
Mick Panasewycz
DSM MacKillop
Phone: 0428880188
Email: michael.panasewycz@nt.catholic.edu.au
Defence Family Information Form
The purpose of collecting the following information is so that communications can be easily shared between the Defence Transition Mentor (DTM) and your Defence Family. As DTM, it is extremely helpful to know of any current/impending deployments, exercises or courses that may impact upon your child/children while they are at school.  Please keep Operational Security in mind when completing this form. All information provided by you is voluntary. It will be treated in accordance with the College's Privacy Policy.

 Defence Family Information Form
For more information on enrolment, call (08) 8930 5708 (Olivia Lynch – Enrolment Officer) or go to our enrolment page.
The Inspiring Military Heritage of Our Location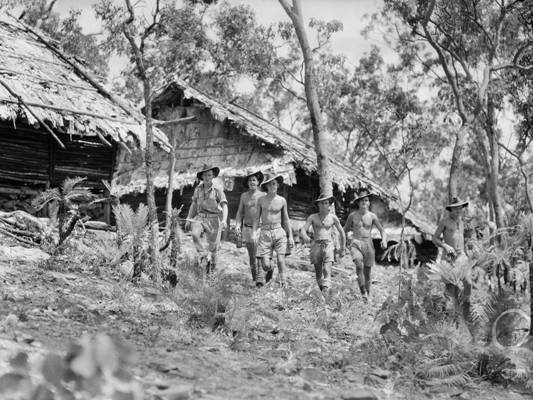 The modern buildings and manicured lawns and gardens of MacKillop Catholic College only thinly veil the deeper history of the site on which the institution is built. An area of sacred significance to the Larrakia people since time immemorial, the undulating landscape of the site, standing conspicuously amid its flat surroundings, has always been destined to be a place of special importance. It was these geographical characteristics which later led to the selection of the site as the 16 Mile Camp, the first of the "Mile" camps, in WW2. During the war, the vantage of the hills provided an ideal defensive location from which Australian and American soldiers, living under harsh frontier conditions at a time when the region was beyond the fringes of civilisation, dug in around the ancient ridges which had inadvertently found themselves part of Australia's front line of defence against the Zeros and bombers of the Imperial Japanese Air Force.
The College motto 'Lead with Courage' echoes the spirit of those who occupied the site before us. Through study of this history, MacKillop students have a deeper understanding of what it takes to overcome adversity, and the importance teamwork and making a stand for what is right. This links seamlessly with Mary MacKillop's famous quote; "Never see a need without doing something about it". Thanks to this enduring spirit and strong community support, MacKillop Catholic College has gone from strength to strength since its establishment in 2012 to become an integral part of the Palmerston community.
More information on the 16 Mile Camp and other aspects of our College's Heritage can be found here.
Useful Defence Links
Defence Community Organisation
Robinson Barracks (wikipedia)
NT Government Defence Information