Vocational Education and Training and Careers

MacKillop Catholic College offers a range of pathway options for students to gain skills, experience and qualifications in various vocational education and training areas. Our offerings in this area continue to grow each year, so if you are interested in finding out more, please contact us.
We offer flexible learning pathways through Apprenticeships, Traineeships and Distance Education courses.  These pathways provide students the options to undertake additional Stage 1 or Stage 2 subjects through other secondary education providers and also the opportunity to undertake accredited training through external vocational and education training (VET) courses.  Our Head of Flexible Learning, Ms Tonia Folino-Cirelli, manages these external pathway programs.
MacKillop Catholic College also offers a range of VET courses on campus.  The College is a Registered Training Organisation (RTO) and offers a number of courses to current students.  The list of courses offered is growing each year.  In partnership with other RTOs, MacKillop Catholic College also provides accredited training options through auspice arrangements.  Contact Rachel Taylor to find out more about VET courses delivered at MacKillop Catholic College. You can submit expressions of interest for courses here.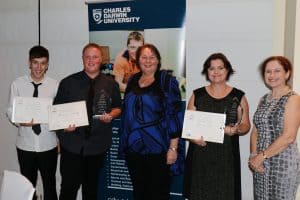 ---
VET In School Program Information and Courses
More information on Vocational Education and Training (VET) in the Northern Territory Certificate of Education and Training (NTCET)
Information on VET Courses can be found in the subject handbook for your year level:

 Year 10 2019 Subject Handbook

 Year 11 2019 Subject Handbook

 Year 12 2019 Subject Handbook
---
Tertiary Admissions Information for Year 12 Students
# SA and NT – South Australia Tertiary Admissions Centre (SATAC)
http://www.satac.edu.au/undergraduate
# QLD – Queensland Tertiary Admissions Centre (QTAC)
https://www.qtac.edu.au/
# VIC – Victorian Tertiary Admissions Centre (VTAC)
http://www.vtac.edu.au/dates.html
# TAS – as there is only one university, please contact the University of Tasmania directly with your application enquiries.
http://www.utas.edu.au/
# NSW and ACT – Universities Admissions Centre (SATAC)
https://www.uac.edu.au/future-applicants/how-to-apply-for-uni
# SACE
https://www.sace.sa.edu.au/
# Beyond School Study Guide
https://www.studyassist.gov.au/sites/studyassist/files/beyond_school_study_guide.pdf
---
Useful Links for Students
Flexible Learning at MacKillop
MacKillop Catholic College Registered Training Organisation
UCAT (For entry into clinical practice courses):

 MedEntry 2019
Moodle Courses:
http://lms.ntschools.net/course/index.php?categoryid=50
Login to Moodle either using your ntschools or guest login and use the enrolment key in the info paragraph to get in.
1.      MySkills – Exploring Careers, Registered Training Organisations, Course Searches and More.
2.      Australian Apprenticeships – Australia Wide – Everything you need to know about Apprenticeship and Traineeships, Industry, Exploring Careers and More.
3.      Australian Apprenticeships Northern Territory – Apprenticeship and Traineeship Opportunities in the Northern Territory – Full Time/School Based Opportunities
4.      Australian Apprenticeships Pathways – Exploring Career Pathways
5.      General industry based literacy & numeracy quizzes illustrating the levels required when undertaking Australian Apprenticeships qualifications.
6.      Training.Gov
Courses & training providers & National Register of VET
7.      USI – Unique Student Identifier
Every year almost four million Australians build and sharpen their skills by undertaking nationally recognised training. All students doing nationally recognised training need to have a Unique Student Identifier (USI). This includes students doing Vocational Education Training (VET) when they are still at school (VET for secondary students).
What is a USI?
The USI is a reference number made up of ten numbers and letters that;
ü
creates a secure online record of your recognised training and qualifications gained in Australia,
from all training providers you undertake recognised training with
ü
will give you access to your training records and transcripts
ü
can be accessed online, anytime and anywhere
ü
is free and easy to create
ü
stays with you for life.
Who needs a USI and why?
If you are a new or continuing student undertaking nationally recognised training, you need a USI in order to receive your qualification or statement of attainment. If you don't have a USI you will not receive your qualification or statement of attainment.
Your USI will give you access to an online record of the training you have done since 1 January 2015. You will also be able to produce a comprehensive transcript of your training. This can be used when applying for a job, seeking a credit transfer or demonstrating pre-requisites when undertaking further training.
If you are an international student studying offshore and do not intend on coming to Australia to do your study you do not need a USI. However, if you are an Australian expat or resident student studying offshore with an Australian training organisation, you will need a USI.
If you are an International student who will be studying in Australia you will require a USI. All international students in Australia will have been issued with an Australian Visa. Once you have arrived in Australia your visa will be activated and you will be able to apply for a USI.
8.      Ochre Card – Working with Children Clearance
ü
You must by law apply for a working with children clearance, also called an Ochre Card, to work or volunteer with children in the Northern Territory (NT).
ü
Online applications are fast and easy to complete.
ü
On the NT Police SAFE NT website you can apply or renew your card, check your renewal date, change your details, request a replacement card and check the progress of an online application.
9.      Northern Territory Training Awards
The NT Training Awards are the Department of Trade, Business and Innovation annual premier event recognising training excellence and achievements by Northern Territory:
·
training organisations
The awards are an official recognition of excellence and achievements in gaining the highest standards of knowledge and skills, in contributing to high standards of training, and for personal achievement in the vocational education and training (VET) sector. There are individual and organisational awards, 12 in total.
The awards offer finalists the chance to gain personal satisfaction and access opportunities in their industry, and provide the opportunity to be part of an elite group of ambassadors who represent the Territory's best in vocational education and training.
Winners and runners-up of each category receive a share in cash prizes, and have the opportunity to represent the Northern Territory at the Australia Training Awards.
There are 12 categories in the NT Training Awards; seven individual categories and five organisation categories.
Individual categories:
·
Trainee of the Year
·
Austin Asche Apprentice of the Year
·
Vocational Student of the Year
·
Aboriginal and Torres Strait Islander Student of the Year
·
School-Based Apprentice or Trainee of the Year
·
VET in Schools Student of the Year
·
VET Teacher / Trainer of the Year.
Organisation categories:
·
Training Provider of the Year
·
Industry Collaboration Award
·
Small Employer of the Year
·
Medium Employer of the Year
·
Large Employer of the Year.
·
Nominations for the 2018 NT Training Awards will open in early 2018.
Last updated: 06 December 2017
10.  WorldSkills – Australia
WorldSkills Australia is a social enterprise that passionately believes skills drive the future of young people, and of Australia.
WE ARE PART OF AN INTERNATIONAL WORLDSKILLS MOVEMENT.
We have been enabling young people to showcase their trade and skills talents since 1981.
Our skills-based competitions operate at regional, national and international levels, and are aligned to National Training Packages, Apprenticeships Australia and Jobs Australia schemes.
Our National Championship is Australia's biggest vocational education and excellence competition.
We promote and build a skills culture, celebrate excellence and showcase vocational education and training.
We achieve this by engaging in research, promoting skills, building careers, focusing on education and skills training in Australia, fostering international cooperation and development, and running skills competitions and leadership programs.
MISSION
Our mission is to actively engage in the development of policy and the practice of skills excellence in Australia through competitions, international benchmarking and applied research.
VISION
Our vision is to contribute to sustainable economic prosperity through the development, recognition and promotion of excellence in skills.
PURPOSE
Our purpose is to encourage Australians to celebrate vocational education and training, to shift perceptions and create the understanding that to learn a skill and choose a skill-based career, is one of the most important decisions a young person and their family will ever make.
WorldSkills Australia championships operate on a two-year cycle. Competitions begin at a grass roots level in one of 35 Australian regions.
Successful competitors have the opportunity to progress to a number of career-boosting pathways. In addition to potentially competing for Gold, Silver and Bronze medals in their chosen skill nationally, and even internationally as members of the Skillaroos – the WorldSkills Australia International Team – there are leadership programs and scholarships to enable young people to become the very best versions of themselves.
Vocational Education and Training (VET) in School students, students, apprentices, and trainees can all enter the Regional Championships.
We work with employers and training providers to tailor competitions to meet local skills demands. This helps to ensure that Australia has apprentices for the jobs it has to offer, and that our young people are career ready.
34 COMPETITION REGIONS IN AUSTRALIA
2018 YEAR OF NEXT BI-ANNUAL COMPETITION ROUND
75+ WORLDSKILLS INTERNATIONAL MEMBERS
45+ TRADES AND SKILLS IN CHAMPIONSHIPS
1981 YEAR WORLDSKILLS AUSTRALIA WAS FOUNDED
100,000 NATION'S YOUTH WHO HAVE PARTICIPATED IN WSA EVENTS
30,000+ SCHOOL AGED CHILDREN AND THEIR FAMILIES ATTEND A WORLDSKILLS NATIONAL CHAMPIONSHIP
60 INDUSTRIES REPRESENTED AT A WORLDSKILLS AUSTRALIA CHAMPIONSHIP
1,000 EDUCATION INSTITUTES, INDUSTRY AND EMPLOYER GROUPS AND VOLUNTEERS PARTICIPATE IN A WORLDSKILLS NATIONAL CHAMPIONSHIP
---
VET Courses at Charles Darwin University
2019 VET For Secondary Students – CDU Program Information Booklet for Schools, Students and Parents in the greater Darwin & Palmerston Region

 2020_CDU VSS InfoDay_Program_Times_Map

 2020_CDU VSS InfoDay_ProgramDescriptions
---
University Website Links