Middle Years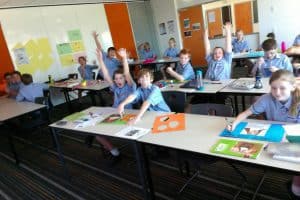 2020 Years 7 Elective Handbook

2020 Years 8 Elective Handbook

2020 Years 9 Elective Handbook
Interested in enrolling at MacKillop? Register your expression of interest here.
The MacKillop Middle Years journey runs from Year 7 to Year 9. It draws heavily from our MacKillop Learning Framework in that it:
Uses relationships and collaboration as the basis upon which all quality learning takes place;
Is grounded in curriculum that is relevant to students lives integrated content across subject areas;
Is inclusive and differentiated in practice, catering to needs of all our students;
Uses quality feedback as a key strategy in maximising student impact for all learners; and,
Use international best practice to design quality lesson and unit of work.
Learning in the Middle Years draws dually from vision and the Australian Curriculum. Our Middle Years Curriculum looks to offer students a diverse and rigorous learning journey towards the Senior School.
As part of our diverse Middle Years curriculum we offer a broad and comprehensive electives program from Year 7. These electives align to the Australia Curriculum Languages, Technology, Health and Physical Education and Arts areas. Students in Year 7 begin with a broad taste of subjects from all areas and progressively focus their interest as they approach the Senior School in Year 10. More information about electives at each year level can be found below.
NAPLAN
Find more information on NAPLAN here.
Core Subject Areas – Middle Years
---
Religious education, in the Catholic context, is the study of Christian identity, history and culture, contemplation of ideas such as morality and purpose, and discussion of such ideas and their place within the world we live in.
---
English
English is the study of the use of our language, in written and spoken word, to effectively convey our ideas. The subject encompasses all aspects of this, from spelling and grammar to to narrative structure, stylistic writing techniques and vocabulary.
---
Mathematics
Mathematics is the study of numbers, structure and patterns, and helps us understand the fundamental logic behind how our world works. It is the language and basis of all other sciences.
---
Science
Science is the structured study of the world around us through observation and analysis of data. It encompasses many fields, including some which students may choose to specialise in such as biology, physics and chemistry.
---
Studies of Society and Environment
SOSE covers a broad spectrum of topics within the humanities field which look at the interactions of people within the societies and environments they inhabit. Areas of study covered in SOSE can include anthropology, economics, history, political science, geography, sociology and environmental science.
---
Elective Subject Areas – Middle Years
This list is not comprehensive. For a full and up to date list of elective subjects, see the subject handbooks above.
Languages
---
Japanese
This subject looks at the language and culture of Japan. We have an exchange programme with our sister school, Hakata High School.
We also have an extracurricular anime club.
---
Italian
This subject looks at the language and culture of Italy.
---
Indonesian
This subject looks at the language and culture of Indonesia.
---
Chinese
This subject looks at the language and culture of Indonesia.
---
The Arts
---
We also offer extracurricular instrumental music.
---
Electronic Music
Electronic music focuses on the creation of music and music notation by means of computer software.
---
---
We also offer extracurricular dance classes.
---
---
Sport
---
In this subject, students study and participate in sport, and learn about health and physiology.
Information on school sports in general can be found here.
---
Rugby Footy Focus
We offer this subject to enable students to understand the game of Rugby, and its surrounding industry, in greater depth.
In addition to the subject, Rugby is also a popular extracurricular option at MacKillop.
---
Technology
---
Industrial Design and Technology encompasses the fields of woodwork, metalwork, other manual arts, and technical drawing and design.
---
Information Communications Technology (ICT) is the study of computing and the application of digital technology.
---
Food Technology
---
Textiles Technology
In this subject you will learn to sew, and about the creation of clothing and other textiles-based products.
---