Information Technology

IT systems at MacKillop Catholic College are overseen by Mr Aaron Lang – aaron.lang@nt.catholic.edu.au.
Instructions for Setting Up SEQTA Engage
Set up SEQTA Engage using the Welcome email
Please follow the steps below to set up a new SEQTA ENGAGE account using the Welcome email. Please see below a screenshot of the login screen: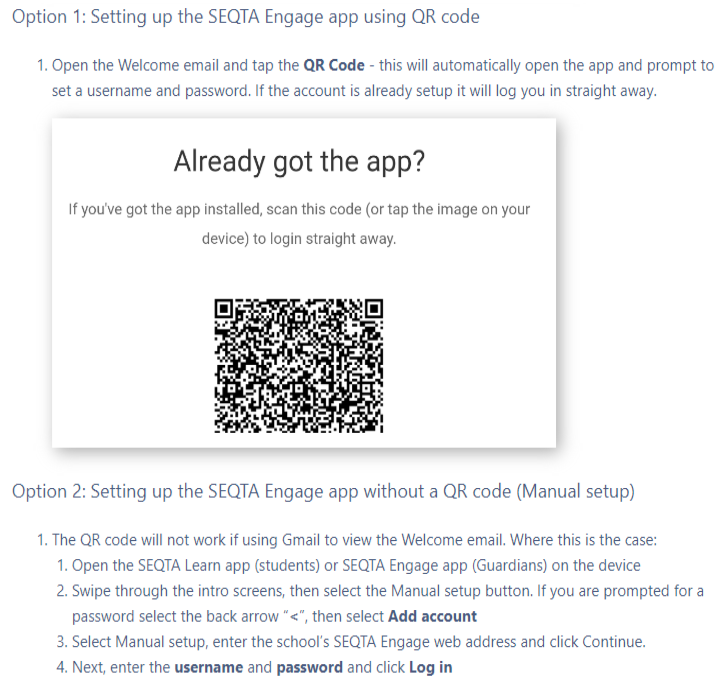 All enquiries about log in or any other technical issues need to be directed to the IT Department, MacKillop Catholic College: MK.ICT@nt.catholic.edu.au
Bring Your Own Laptop (BYOL)/Bring Your Own Designated Device (BYODD) Programmes
MacKillop currently operates on a BYOL system for years 7 through to year 12.
As of 2022 MacKillop is starting the transition to a BYODD programme. It is recommended to Year 7 families and those wishing to replace current devices to purchase a device from Edunet. Below is an informational PDF with all relevant information from Edunet regarding laptop/s offered.
Please keep in mind, these devices are education/commercial devices and not retail, therefore the quality is higher than your typical retail device.

MacKillop Catholic College 2023 to 2024 BYOD Devices

Laptop-Checklist
Is a BYO Laptop mandatory?
Yes, for all year levels. Students must bring their laptops every day. All students are expected to follow the laptop policies and procedures which they agreed to when signing the BYOL form or Enrolment Agreement Form when they are enrolled or enrol at the College.
What laptop is recommended?
We recommend laptops with the following specifications:
Windows 10 or 11
 8GB RAM (Minimum 4GB)
Wi-Fi
Good processor – Intel Core i5 or Ryzen 5
3 years extended product care warranty, including battery
256GB of storage (minimum 128GB)
Do not purchase software. Microsoft Office is provided by the College and Windows Defender comes installed with all Windows Operating Systems.
Where can I buy the laptop?
Parents may buy a laptop from any approved reseller. Edunet (See information sheet linked above) and Harvey Norman are willing to assist parents/guardians from MacKillop Catholic College.
What about insurance coverage? Who is responsible for this?
Please note that accidental damage is to be covered by parents under personal contents insurance. Some vendors also provide accidental damage cover, however, this needs to be discussed with the individual vendor.
Theft is not covered by the College, although we will actively assist students with finding lost or stolen laptops. The College provides students with a padlock and locker for their personal equipment security. Home contents insurance may cover this.
How will students connect to the internet at school?
Students connect to the NTSchools network, and are required to follow the policies in place. Students are provided with two options to connect their devices to the NTSchools network:
Devices purchased through Edunet will be re-imaged and sent to MacKillop – parents notified when the device is ready to collect (We plan to receive and contact families for collection prior to school starting). These devices connect to NTSchools Wifi.
Devices not purchased through Edunet connect to NTSchools-Guest. This does require certificates to be installed to allow websites while connected to NTSchool-Guest (does not affect non-NTschools networks).
Please Note: Previous years devices that were re-imaged or added to the domain through Windows 10 Pro will also connect to NTSchools and continue to be supported.
How much will it cost?
A laptop from an approved reseller will generally be in the range of around $750 to $1500.
What IT support is available?
The IT Resource Levy fee is calculated on an annual basis based on student numbers. This levy covers the Microsoft Office package, internet access, a range of learning programs like ClickView and the setting up of the laptop. Our technicians can assist students with installing software. The College will provide technical support only for NTSchools network connection and software issues.
Edunet devices are planned to arrive before school starts each year and IT plans to contact parents within 3 business days.
Are students allowed to have non-school related software or games installed on their laptops?
It is highly recommended that all laptops for school use is free of games or any other distractions. It is the responsibility of the parent/guardian to enforce the rules. If they have games and it is misused parents will be contacted to discuss the implications.
When will the laptops be ready for students to use?
Our technicians will work through all the laptops starting immediately at the start of the new school year. This process is completed as quickly as possible by the IT Department.
Can the laptop be recharged at school?
It is the student's responsibility to recharge their laptop at home each evening and come to school fully prepared. Limited facilities are available for recharging on the College premises.
Internet Protection at school and home:
At school internet access is protected by NTSchools restrictions and at home it is the responsibility of the parent/guardian.
Please contact the IT Department for clarification regarding our laptop programme at MK.ICT@nt.catholic.edu.au.
Catholic Education Northern Territory ICT Policies

 086 ICT Policies – GOM rf 12 Nov 2015


 CENT Acceptable use policy  – 16 Feb 2015


 CENT Cyberbullying Policy – Sept 2012