MacKillop News – Term 3 Week 5
16th August 2023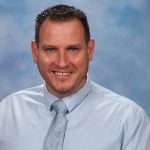 Dear Families and Community Members,
Amidst our Catholic teaching lies a profound and deeply cherished belief—the Assumption of the Blessed Virgin Mary. This tenet, while not explicitly detailed in Scripture, holds a special place within the spiritual tapestry of Catholic theology. Rooted in Tradition, Scriptural allusions, and the understanding of Mary's unique role, the Assumption speaks to the core of our Christian belief in the "Resurrection of the Body and the Life Everlasting, Amen". Let us embark on a theological exploration of the reasons behind this belief.
Mary's Immaculate Conception: The foundation of the Assumption rests upon the belief in Mary's Immaculate Conception, the notion that she was conceived without original sin. This divine privilege marked Mary as the pure vessel chosen by God to bear His Son. If Mary remained sinless throughout her life, it is fitting that she would not undergo the corruption of death but would be assumed body and soul into Heaven.
Connection to Christ's Redemption: The Assumption also bears witness to the profound connection between Mary and her Son's salvific mission. Mary's "yes" to the Angel Gabriel initiated the earthly journey of Jesus, culminating in His sacrifice on the Cross for humanity's redemption. Her assumption is seen as a fulfillment of God's promise to elevate those who are united with Christ.
The Ark of the New Covenant: In the Old Testament, the Ark of the Covenant was a sacred vessel that held the tablets of the Ten Commandments, manna, and Aaron's staff. In the New Testament, Mary is regarded as the "Ark of the New Covenant" for carrying Jesus—the Word made flesh. Just as the Ark was made of pure gold to house the sacred objects, Mary's assumption symbolises her exalted role as the dwelling place of the Son of God.
Reflection of Our Destiny: The Assumption of Mary offers hope and anticipation for believers. While death is a natural consequence of human existence, Mary's assumption shows us that through Christ's victory over death, our own destiny is not limited to the grave. Her assumption points to the resurrection of the body—a belief central to Christian faith.
Assumed into Heaven: The Assumption highlights Mary's unique and privileged role in salvation history. While other saints are venerated for their holy lives and profound spiritual journeys, Mary's assumption demonstrates her exceptional status as the Mother of God. As the Queen Mother, she is granted the honour of being assumed into Heaven by her Son's side.
Ecclesial Tradition and Teaching Authority: The belief in the Assumption has been part of the Church's oral tradition for centuries. It was officially declared a dogma of the Catholic faith by Pope Pius XII in 1950 through the Apostolic Constitution Munificentissimus Deus. This declaration reaffirms the Church's authority to discern and proclaim truths that uphold the deposit of faith.
May the Assumption of Mary inspire us to seek a closer relationship with God and to remain steadfast in our faith journey.
Lucas Hurley – Principal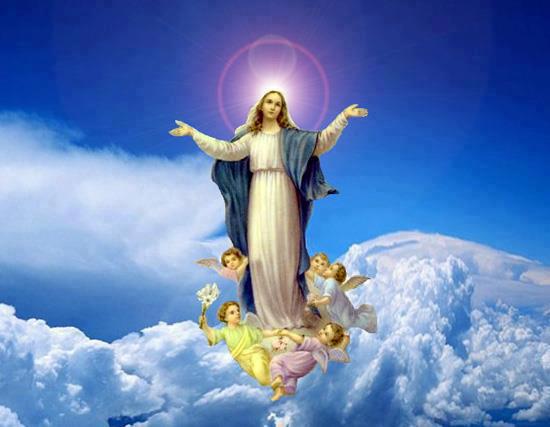 ---
From the Head of Middle Years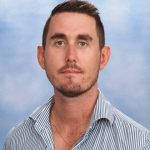 Week 6 is a busy week for the Middle School with PAT Testing scheduled for students across the English, Maths and Science faculties (Languages have been removed from the schedule). As such, all students are required to bring their fully charged laptops every day during Week 6 as per normal procedures. PAT Tests are one of the tools we use to assess student progress and to inform future curriculum planning. 
Matthew Sharp – Head of Middle Years
---
Arts News
MacKillop's Got Talent went well this year with many interesting acts. For the first time students shared their skills using technology and kept the audience completely engaged. A number of students shared their musical skills and we had a special performance from two of the music teachers. Next year we hope to present a wide variety of talents and skills in the competition, so if students have a talent or skill they are encouraged to develop that and apply to perform in MacKillop's Got Talent in 2024.
Kathryn Ezzy – Arts Coordinator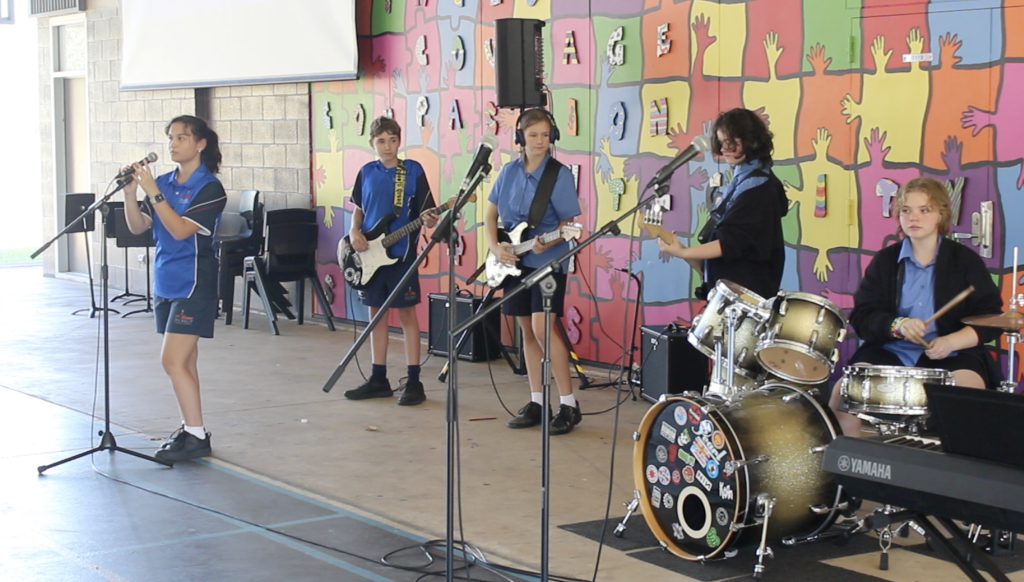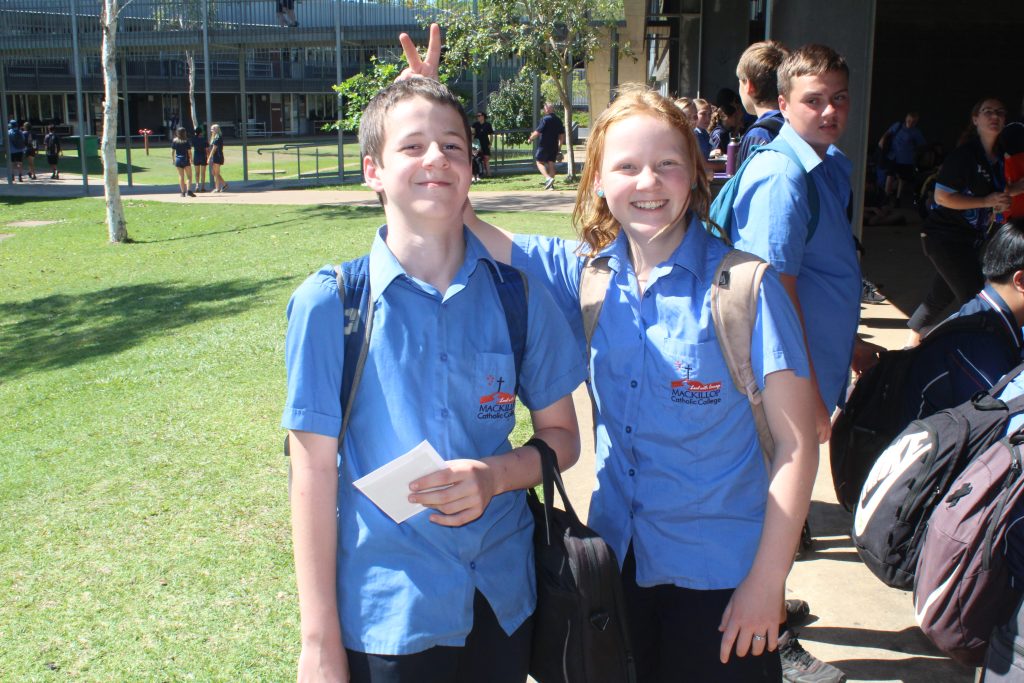 ---
Book Week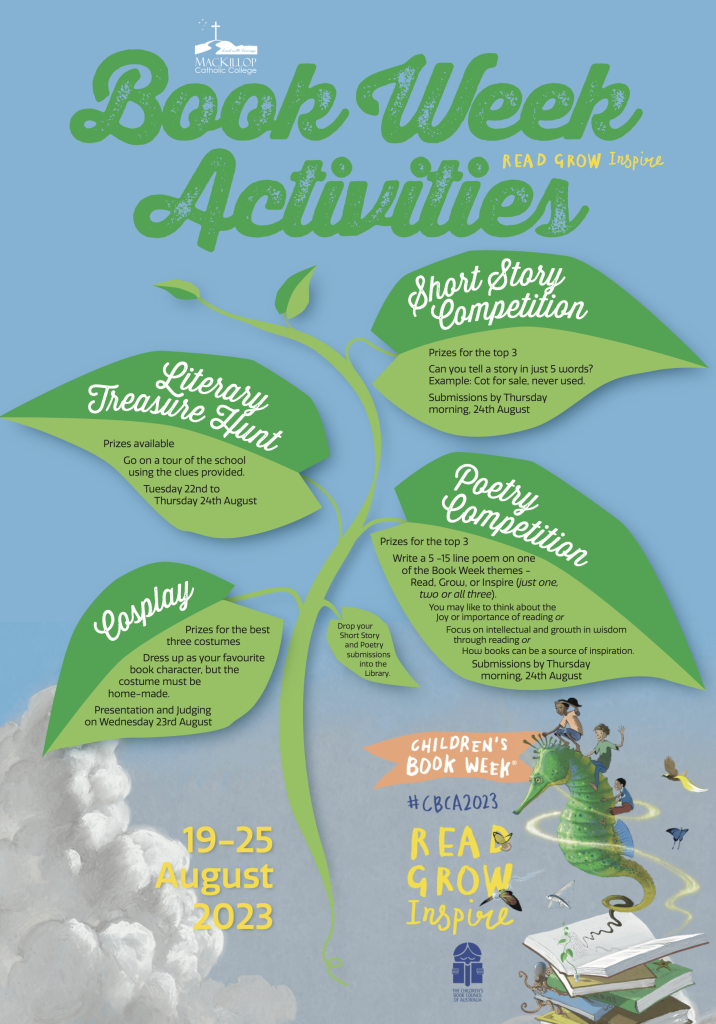 ---
Debating Team
Our Middle School and Senior School debating teams participated in the second round of the Northern Territory Schools Debating Competition held at Darwin High School. The Middle School team's topic was that organ donation should not be made compulsory, and they won against Nightcliff Middle School. Our Senior team argued against a Darwin High team that AI such as ChatGPT should be available in secondary schools, for staff and students – they also won. This year is MacKillop's first dip into the debating arena, so this is a fantastic result for our students.
---
Cross Country
Congratulations McCormack on winning the 2023 Cross Country.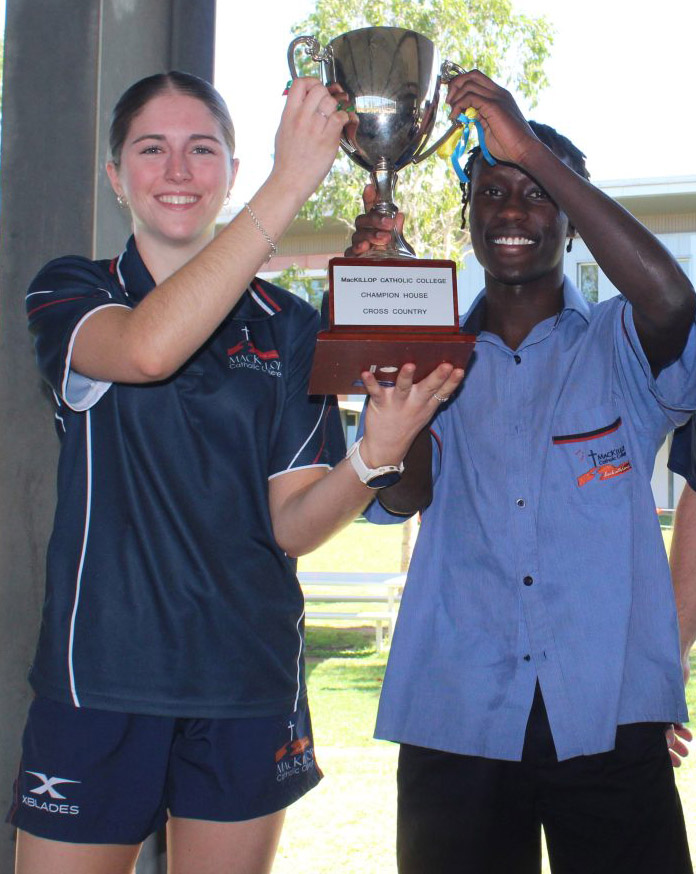 ---
Defence Student Mentor
In addition to her amazing work with our Inclusion Team, Ms. Lowery is here to assist defence students through their time at MacKillop Catholic College, to make sure their needs are met and assist them when a parent in the Defence Force may be away on deployment or exercise etc. Ms. Lowery can also assist students with joining cadets if they would like a challenge and to assist all students at the College with pathways into the military – so if you're curious about a career in the military, Ms Lowery is the person to talk too! She can be contacted by email at sue.lowery@nt.catholic.edu.au, or found in her office in the Inclusion centre.
---
MacKillop Feast Day Celebrations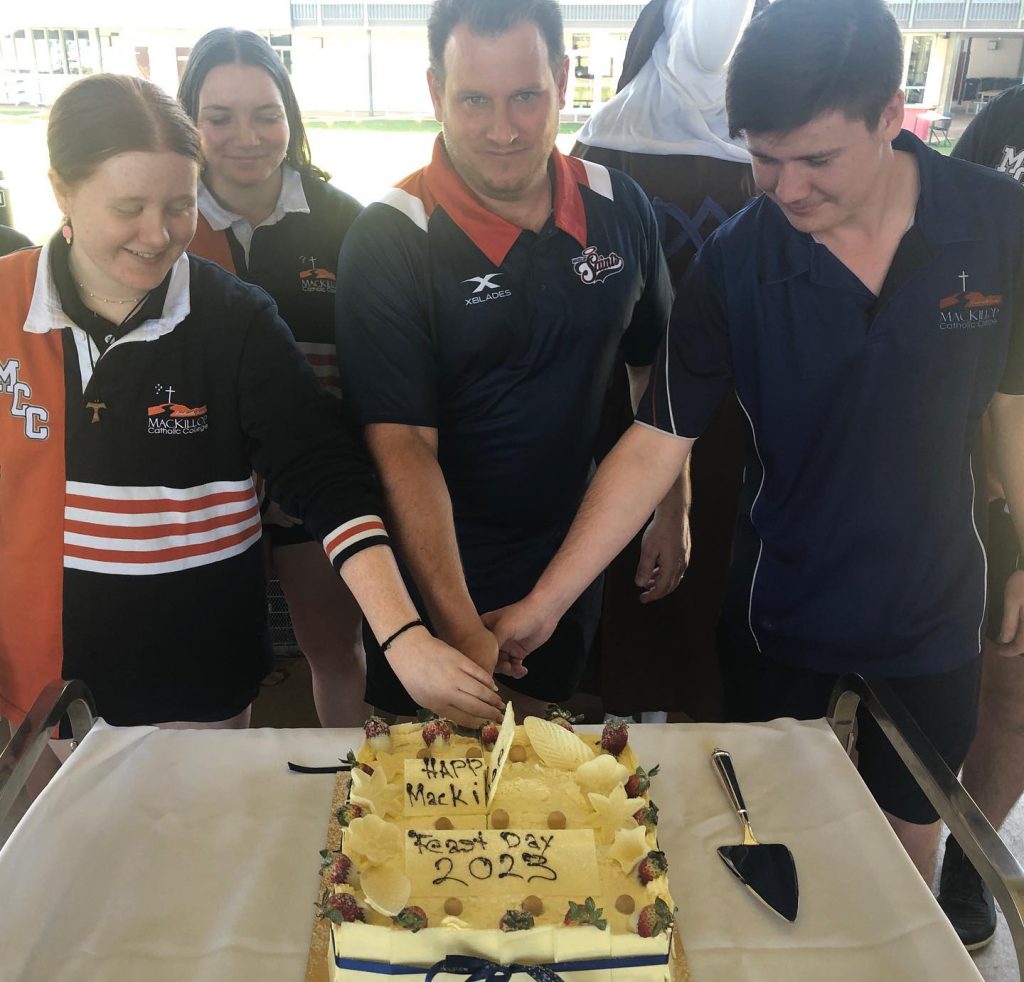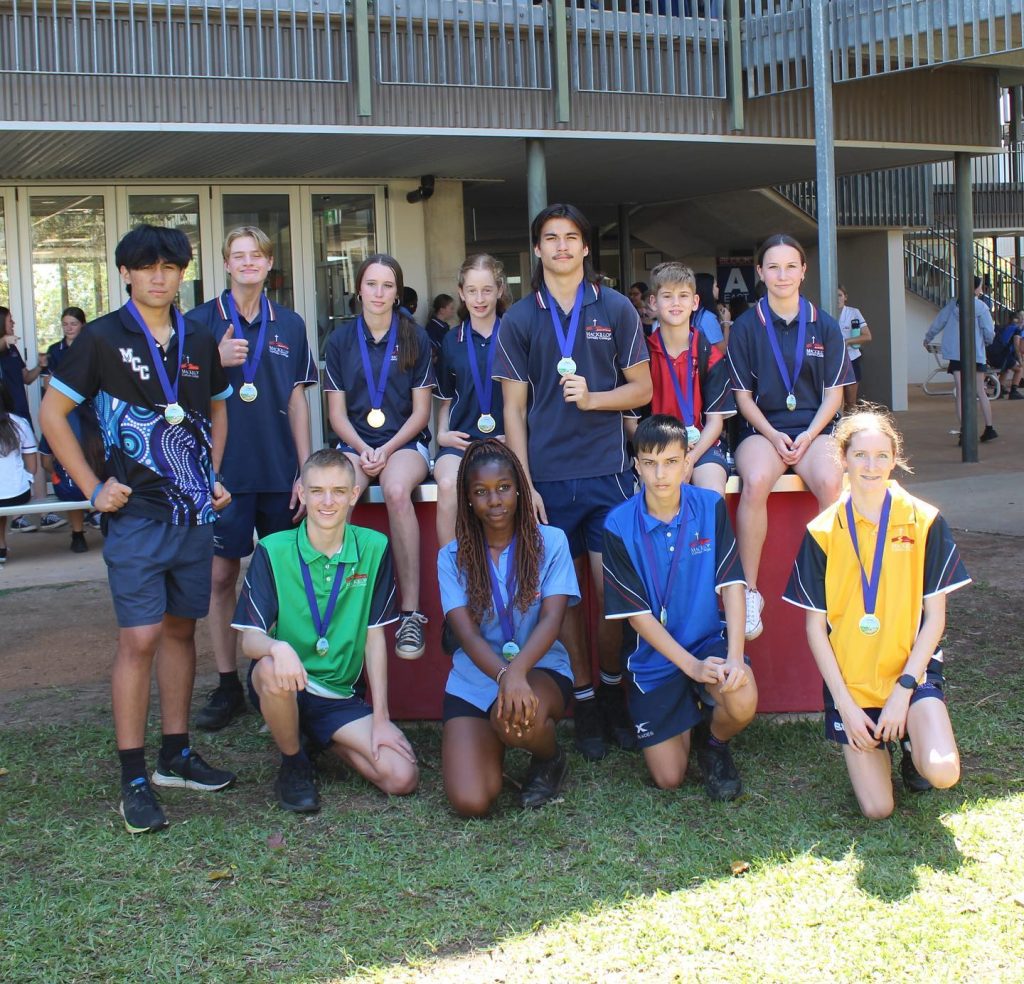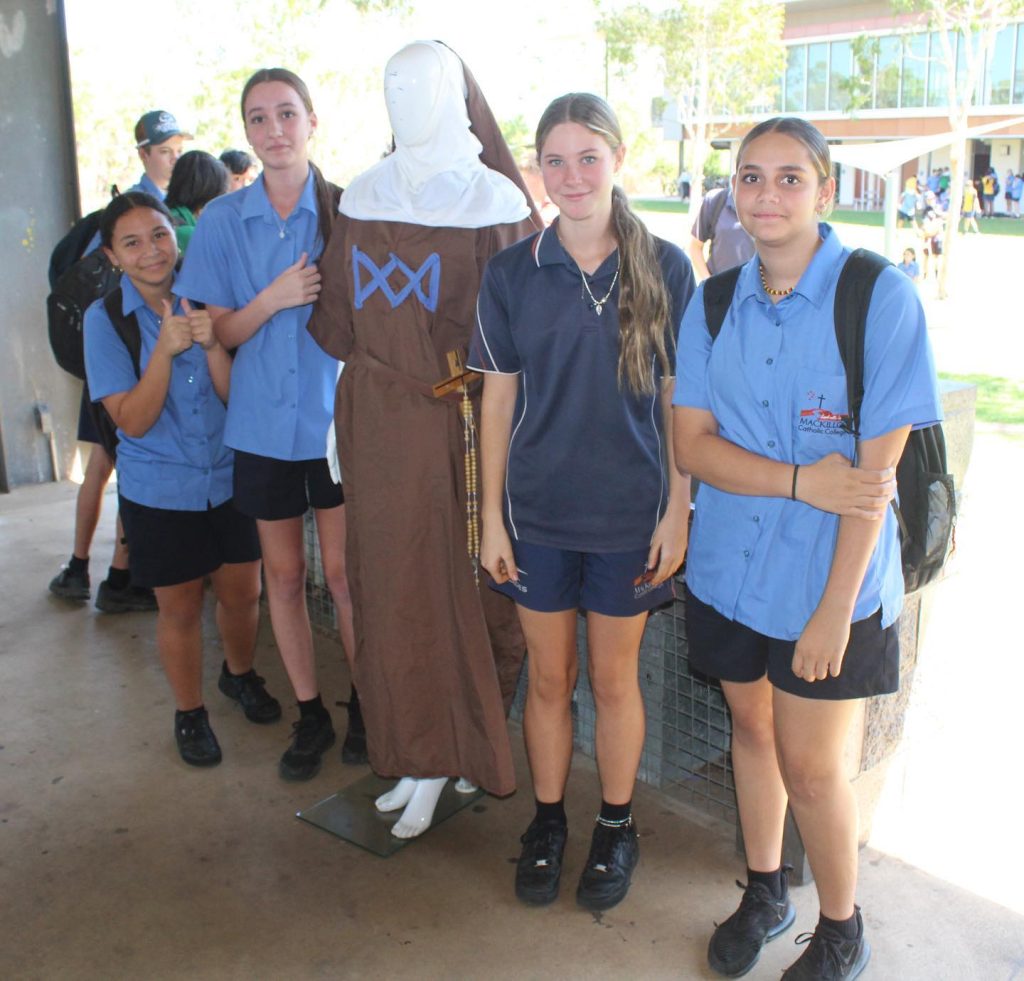 ---
Languages News
French News
Stage 2 French students completed their final coursework task on Friday 11th. and the results will be posted on SEQTA shortly. Coursework in Stage 2 French counts for 70% of the total grade (with an examination counting 30% towards the total). All the students are in a healthy B+/A- situation at the moment so now for the remainder of term 3 they will have the opportunity to focus on exam practice. Passing students will, of course, receive good ATAR points and in addition a bonus for ATAR as languages, uniquely in the SACE system, receive a bonus for ATAR.
Stage 1 French students were excited to learn that the Language Department is considering a trip to La Nouvelle Caledonie next year. This is a French-speaking island in the Pacific around 2 hours by air from Brisbane. At the moment the paperwork has been submitted and the Catholic Education Office is considering the application. If the trip does go ahead, new students from Year 9 or 10 who enroll in Stage 1 French would be eligible to go on the trip. Costs have not yet been decided as a decision from the CEO must come first. This trip would only be for French students as part of the trip is planned to be spent in language lab with native French speakers and teachers. Of course, plenty of time would also be allocated to sightseeing.
Martin Wallace – French teacher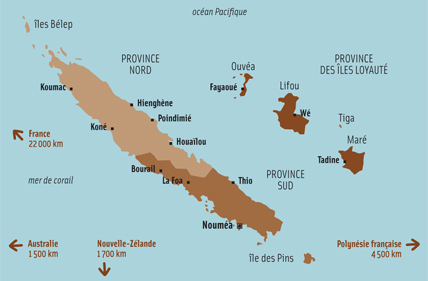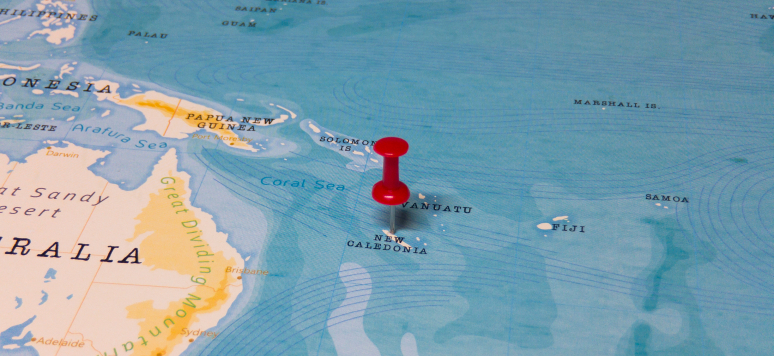 Haiku Competition
Year 12 student Isabella Pena participated in the Haiku (Japanese short poem)competition held by Darwin Memorial Uniting Church, and she won the third prize. Congratulations Isabella!
Indonesian News
Last week, MacKillop had the honour to host two exchange teachers from SMAN 2, Batang, Central Java. Ibu Arie (Eeboo Aaree) and Pak Bas (Paak Bus) spent the past 4 days at our school. They had a good time while learning about the Australian education system. 
Ibu Arie was impressed with our College community and facilities, whilst Pak Bas enjoyed his interactions with staff and students. 
Lenny Lenny – Indonesian Teacher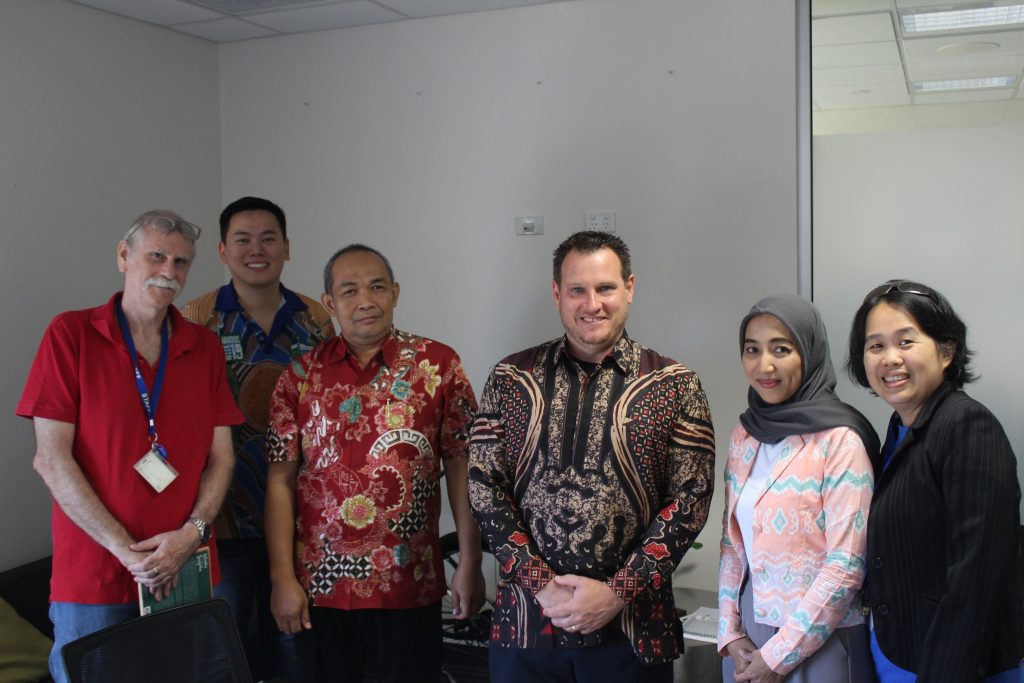 ---
Science Week
This week is Science Week! There will be fun activities in the library every lunchtime.
---
VET News
We offer mechanical short courses that run for one term, each term. Open to Years 10, 11 and 12. Limited spaces available. Speak to Mr Anderson or the VET team for more information.
---
From the Director of Rugby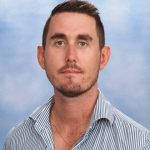 There is a lot to look forward to coming up ahead on the Rugby calendar. Firstly, we welcome Palmerston College Clontarf to MacKillop Field on Wednesday of Week 6 for a Middle School Boys showdown. Then in Week 8 on Thursday, our Year 7s and 8s are off to Katherine High for our first real away game since the COVID disruption. Next, it's a double hit in Week 9 with the Palmerston Cup on Monday and the NT Schools Rugby 7s Carnival on Friday. 
Please keep an eye out for permission forms being sent home with players in the weeks to come. There is usually a lot of demand for what is only a limited number of opportunities so please return notes fast to avoid disappointment. 
Finally, the MacKillop Saints will be back in the NTRU Club Competition this year. We hope to enter teams in the u13s, u15s and u17s divisions for both Boys and Girls. Information on how to register will start coming out after the NRL NT competition concludes in a few weeks time. 
Yours in Rugby,
Matthew Sharp – MacKillop Catholic College Director of Rugby Codes
Classic Wallabies Visit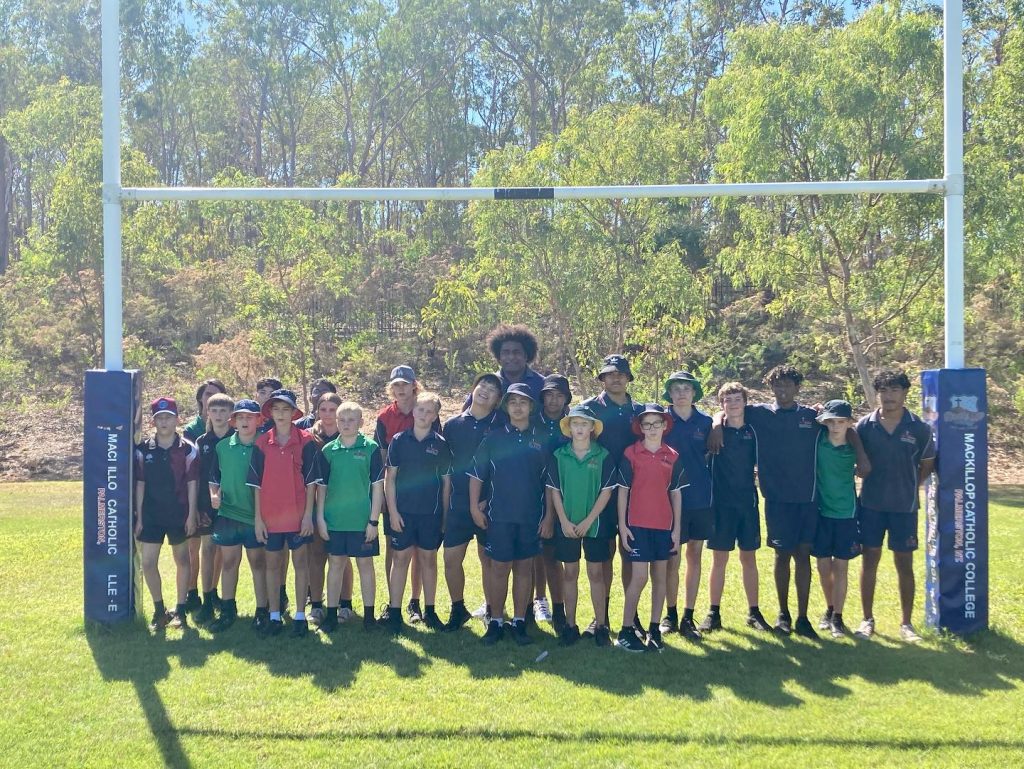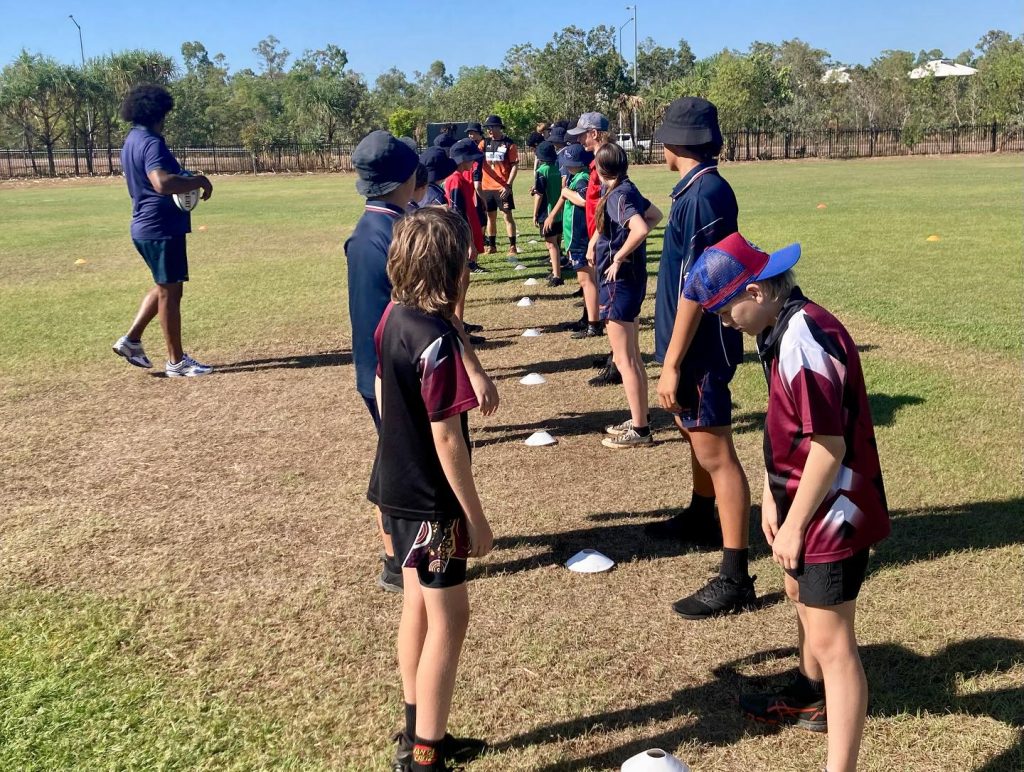 ---
Community News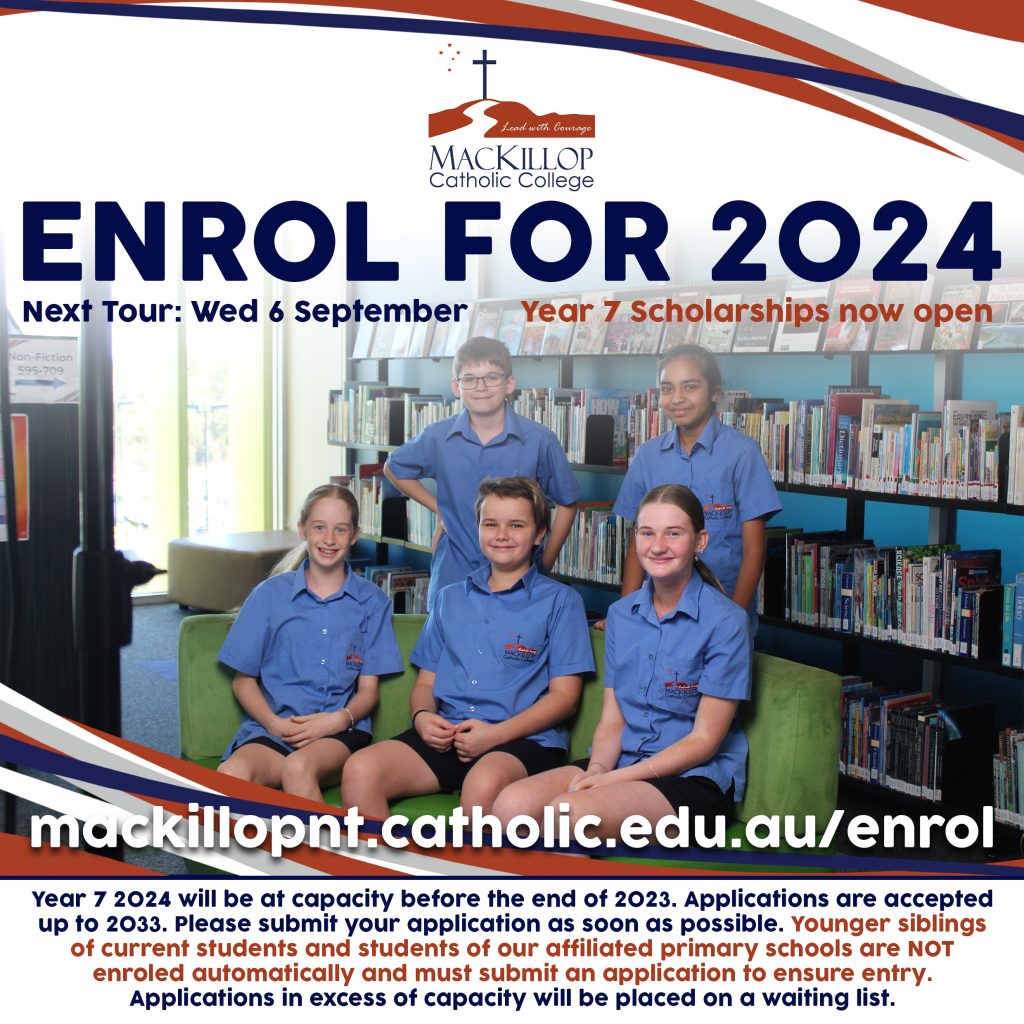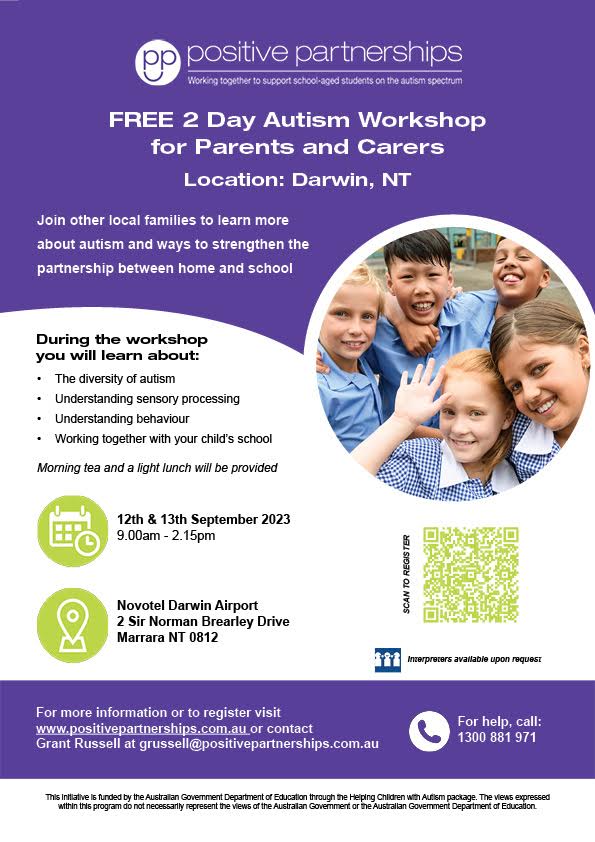 ---