Pathway Programmes
Creative Industries and Media Pathway
The 2-year Creative Industries and Media (CIM) Pathway at MacKillop Catholic College RTO runs two days per week. The CIM Pathway is designed to enable students an industry targeted and tailored pathway to high school completion.  With the CIM Pathway of three VET qualifications totalling between 120-150 NTCET credits, the core requirements of PLP, Literacy and Mathematics will complete their pathway*.
*MacKillop Catholic College RTO only offers the delivery of the accredited components of the pathway.  Students from external schools will undertake their PLP, Maths and Literacy components at their registered high school.  Students at MacKillop Catholic College will also undertake a Religious Education component.  
In the first year, students will undertake a Certificate I in Business and a Digital Media elective unit cluster which will enable them to gain core skills and competencies in using creative media and also gathering the base foundation skills needed to operate in the industry.
In Semester 2 of their first year, students will separate into two sub-streams to focus on their preferred area of interest.
A focus on production – filming, digital editing and digital design
A focus on the behind-the-scenes – IT, lighting, cabling and networking
Students will then re-join as one stream in the second year of the CIM program to undertake their course in Screen and Media where all of their combined skills will come together to create a total production team.  The CIM Pathway is a partnership between MacKillop RTO and a range of industry organisations.

RTO CIM Stream Brochure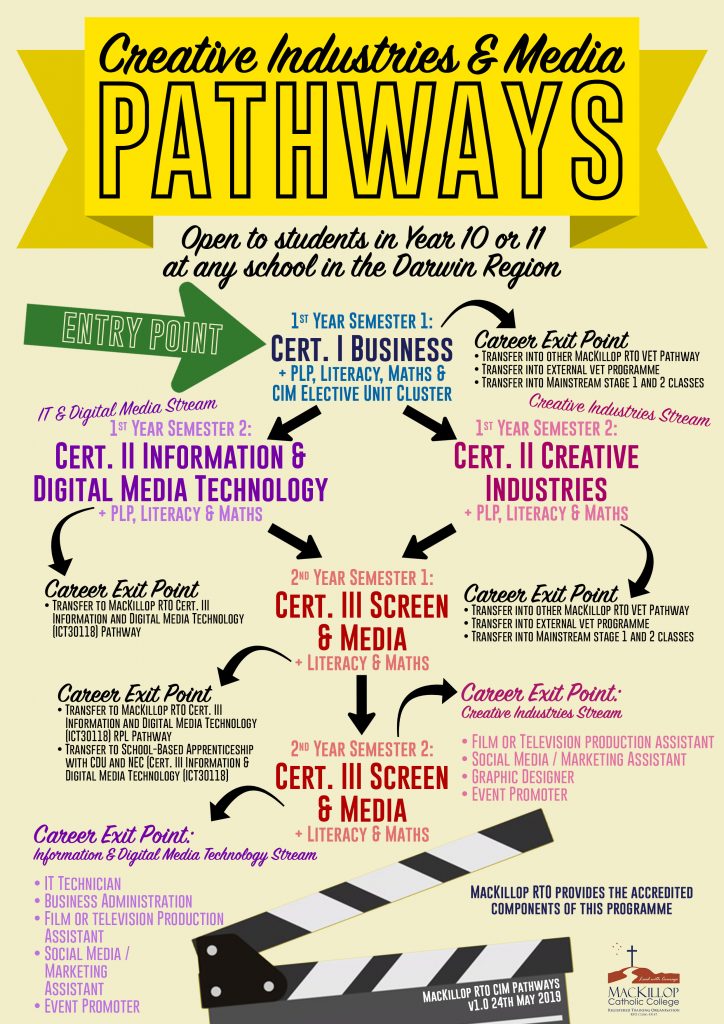 Core Skills in the CIM Pathway
Build your own website
Use social media for marketing, promotion and engagement
Networking and connectivity
Film making
Music production
Photography and digital manipulation
Graphic design
Create your own animations
Communication and workplace practices
Benefits of the CIM Pathway
Between 120-150 credit points can be attributed towards a Northern Territory Certificate of Education and Training (NTCET)
Exposure to employers through structured work placements, excursions and partnership programs
Increasing confidence and communication skills through learning in a work environment
Safe environment within a school is beneficial for younger or less confident students
In-built support including Inclusion Support Assistants in each class, Indigenous Engagement Workers, and Pastoral Care and Wellbeing staff
Experienced Language, Literacy and Numeracy staff on-site to support when needed or to assist with remedial training
Courses are designed specifically for the VET In Schools cohort
Additional supports provided by MacKillop catholic College to support students with an EAP (Educational Adjustment Plan)
Ready to enrol? Submit your expression of interest here.