Gifted and Talented Programme at MacKillop
Our Gifted and Talented Programme, known as Eagle Group, is coordinated by Dr Tom Lewis.
The MacKillop Gifted and Talented Programme education is a partnership involving MacKillop Catholic College, the family and other agencies. Students are identified as being suitable for the programme due to parent nomination or student nomination, with current or previous teacher confirmation, made via a form available from Dr Tom Lewis.
ABC Radio did a segment on MacKillop's Gifted and Talented Programme in September 2018. The audio of that segment can be listened to here:
How will my student benefit from the Gifted and Talented Programme?
Having your student placed within a Gifted and Talented programme will likely improve their marks across their subject range. It will also prepare them to face the world beyond school, by offering them the chance to obtain more skills and abilities than are offered to the general student body.
By participating in mentally-stimulating activities, students develop their capacities in all sorts of ways. For example, recent activities include:
Chess – we run two annual competitions, and field a team to play inter-schools
A stock market simulation game
Drone programme – we have a squadron of 24 drones which we use in a number of ways
Trebuchet – we built two operational medieval machines recently, and tested them in competition
What will the Programme involve?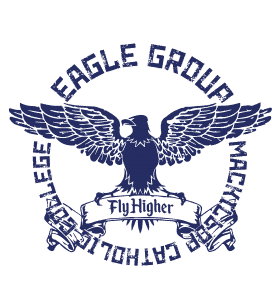 The programme aims to provide minimal disruption to the students concerned, and will not provide extra work for them. Rather, a Homeform arranged as a 7-12 cohort, supervised by male and female teacher-co-ordinatorsand a programme of visiting speakers, operates intellectual activities, and educational assistance is conducted. This also embraces enrichment sessions outside timetabled classes in Mathematics, English, and Science. These sessions can  accelerate student achievement in the normal timetabled subjects. ​
Entry/Further Information
Entry is by invitation. Please contact the Gifted and Talented Co-ordinator, Dr Tom Lewis, at: tom.lewis@nt.catholic.edu.au or via post to: P.O. Box 2608 Palmerston, NT 0831.​
---
Attempting Senior Subjects from the Junior Years
A number of Eagle Group students have attempted to undertake a senior subject from within the junior years. This leads to their receiving credit for the unit towards their senior certificate. This is a brave and capable effort, and quite in keeping with the Group motto of "Fly Higher".
You may be interested in the possibility of pursuing such ventures for yourselves. In essence, the senior certificate is 200 points, with subjects being usually 10 points for a semester, or 20 for a year.
The complications of timetables and possibilities are well beyond the scope of this short explanation, but the basics are to:
find out what the school offers from the department involved
work out where on the timetable it exists, and
assess whether such a venture is possible for the student concerned. For example, if the subject is being offered on a line where a student is taking an elective, this lessens the complications.
However, taking on a senior subject also needs consideration as to what might be being missed out on, and what is implied by such an approach. For example, students missing out on a semester of work in another subject need to carefully consider this: is the subject matter being missed out on essential to the student's education, and/or can it be picked up otherwise?
Furthermore, taking on a subject such as Modern History, to use this example, assumes that the usual year 11 student has a background of study in SOSE which includes Year 9's WWI; Year 10's WWII, and the skills of Source Analysis picked up in both years, already in the student's armoury.
Nevertheless, congratulations to all students who have undertaken this option, and as for yourselves, please consider this possibility as a way of both accelerating and heightening your successful acquisition of the modern curriculum and its outcomes.
---
Chess Competition
The MacKillop Gifted and Talented unit fields a team in the annual local Chess tournament. If you are interested in taking part, speak to Dr. Lewis.
---