Extracurricular Dance

Welcome!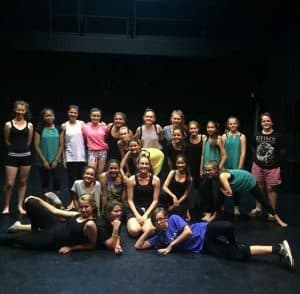 At MacKillop Catholic College it is our belief that every student should have the opportunity to widen their talents and skills. We are offering an after school dance program for both Junior and Senior School students. This program offers an important element to the growth and development of your child.
What Will My Child Learn?
Each term will have a different style focus where they will learn movement with a Dance to demonstrate their skills learnt. Students will learn technique in various styles including Hip Hop, Jazz, Contemporary, World Dance, Musical Theatre and more!
Schedule
JUNIOR DANCE
WEDNESDAY 3.15-4.30pm
SENIOR DANCE
THURSDAY 3.15-4.30pm
Juniors may participate in senior dance by audition only.
Additional rehearsals will be scheduled closer to performance dates.
2019 EVENTS
International Dance Day – 29th April – at school event
Nightcliffe Seabreeze Festival – Day on the foreshore – 12th May – out of school event
Centralian Eisteddfod (Alice Springs) – May – out of school event
Semester 1 Dance Night – Wednesday 19th June – at school event
Evolution Dance competition – August – out of school event
Follow your dreams dance competition – 7th/8th September – out of school event
Presentation Night – November – at school event
Semester 2 Dance Night – Wednesday 04th December – at school event
UNIFORMS AND COSTUMES
MacKillop Dance pride itself on our professional presentation.  Compulsory dance uniform/s are to be worn at all performance events.  Please be aware that there are expenses involved. These are outlined in the 'Fee's section below'.
EMAIL COMMUNICATION
The primary form of communication with Parents/Guardians is by email.  Please contact Mrs Mattison at the college if this is unsuitable.
FEES
The annual fee of $100, endeavors to cover costs of entry fees, registrations, costumes and props for all events. However additional fees may be required for other minor expenses. These include; purchase of the compulsory team uniform, dance shoes, stockings, hair and make-up essentials. We endeavour to ensure prices remain the same or similar from year to year, any changes to prices will be notified via appropriate communique.   Further detail regarding items required for purchase will be forwarded early in 2019.
Fundraising will also be required in 2019 to cover costs of travel and accommodation for the Centralian Eisteddfod in Alice Springs.
ACCEPTANCE OF OFFER
Being a member of MacKillop Dance Company requires organisation, hard work, time and commitment; as a result your child will benefit from enriching experiences that build confidence, a sense of belonging and provide lasting memories.
To confirm inclusion in MacKillop Dance Company, please complete the "Acceptance of Offer" form.
If you would like to discuss any aspect of your child's involvement in the MacKillop Dance Company, please call Mrs. Mattison 08 8930 5757 or via email at amanda.mattison@nt.catholic.edu.au

Benefits of Dance
MCC Dance focuses on developing students' strength, agility, coordination and flexibility. Confidence and self-esteem will grow through performance opportunities:
School Assemblies
Dance Nights
Community Events
Competitions
Cost of Tuition
Payment is $25 per term. This will go towards performance opportunities to further your child's success in the Performing Arts. Parents will be invoiced on submissions of an enrolment form, with payment to be made within 14 days. Please note that there is no refund for students wishing to stop lessons before the end of term.
Please direct questions to:
DANCE PROGRAM:
Contact the Head of Arts, Mr David Graham, for enquiries.
david.graham@nt.catholic.edu.au
FEES:
MacKillop Catholic College Finance Department
finance.mackillop@nt.catholic.edu.au
Ph 08 8930 5716
Enrolment for Dance Lessons
Fill out the form below, or download the PDF dance enrolment brochure.

 Dance Enrolment Brochure