Why Choose MacKillop?
There are many factors that set MacKillop apart to make it an ideal choice for your child's secondary education. Students and teachers love being at MacKillop because of its strong sense of community and value placed on each individual within our College. Our staff, many of whom have come from a background as industry professionals in the subjects they teach, are all highly qualified, friendly and approachable. They prioritise communication between themselves, their students and the parents and carers in our community. This ensures that no child is left behind, and every student receives the best, most enjoyable, and most rewarding education possible. Our year 12 graduations are an emotional time for students and teachers alike, as close relationships  are built over the six years students spend here, but this feeling is lightened by the knowledge that the young men and women who graduate from MacKillop are well prepared for the world ahead, and equipped to continue to "Lead with Courage" well into their futures.
Below are some of the many reasons why parents and students choose MacKillop Catholic College:
We are a community
Staff, students and parents are a close-knit family at MacKillop. There is a constant flow of communication between home and school, and our parents are very much involved in our College life through our Parents and Friends Association and the opportunity to attend many of the events, liturgies and ceremonies we hold throughout the year. We are an integral part of the community life of our local area through sports teams and outside of school hours activities such as dance classes and music lessons. Many other organisations within our community use our facilities in evenings and on the weekends. Our parents and students are active participants in the community life of our local area.
We are inclusive
Whilst we are founded on Catholic values and have a strong spiritual focus that permeates all aspects of life at MacKillop, students do not have to be Catholic to enrol. We cater to students from a diverse range of cultures, backgrounds, talents and abilities. Our Inclusion Support Department (detailed further below) is well regarded across our region, and enables us to cater to students with a wide range of intellectual, emotional or physical challenges. We encourage open mindedness and acceptance of differences, and our strong focus on cultural subjects such as Japanese, Indonesian and Italian broadens our students awareness of their wider world.
Students love being at MacKillop
Students at MacKillop are happy. They are supported by their friends and teachers, and they have a wide range of fun and interesting subjects and extracurricular activities to get involved in to prepare them for their future. Our subject choices, teachers and lessons are inspirational and exciting, there is always a new way for students to step out of their comfort zone and try new experiences, and to have their minds broadened by exposure to a world of possibilities. Students are encouraged to pursue their interests, gain confidence, and identify and achieve their goals in life.
We are a safe environment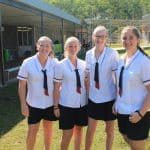 A major factor influencing many students and parents choice of schooling is the underlying culture at the school. We are an excellent choice on that point. Our students are supportive of each other, with a strong sense of respect felt throughout the College. Our pastoral care and wellbeing team is always on hand to support students who are facing difficulties in their lives, and we have Counsellors and our College Chaplain to support students who need to talk to someone. No student is ever forgotten; every individual is valued and all of our staff are happy to know students by name and offer all the support they can to each and every student.
We are built on Catholic values
We exist to emulate the values of our patron, St. Mary MacKillop, who devoted her life to providing education to enrich the lives of regional and marginalised Australian children. We are built upon a foundation of respect, inclusiveness, courage, integrity and compassion. These values run throughout every aspect of life at MacKillop.
We have great teachers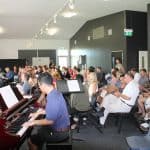 Our teachers are passionate about what they do. Many of them come from previous professional lives having great success in the fields they are teaching, with a substantial number continuing to be strongly involved in their fields of expertise outside of school. Our teachers are here because they want to pass on knowledge, inspire interest, and prepare our young people for the world ahead as best they can by sharing their passion for the subjects they are teaching to the future generations. Our teachers know their students, and are always happy to help or talk to any student or parent who has any concern to ensure that everything stays on track. You can find the individual contact details of each of our staff members through this link, and we encourage you to get in touch about anything you need to.
We get results
Our academic results are above average for Northern Territory schools. Our most recent NAPLAN results (2016) show that the vast majority of both cohorts tested, year 7s and year 9s, are at or above the national benchmark in every area tested. The most promising aspect of MacKillop's academic data is the strong growth that students have over the two year period from year 7 to year 9 whilst studying at MacKillop, where in 2016 our year 9s showed a growth of 135% in reading, 146% in writing, 120% in spelling and 153% in numeracy since year 7 in 2014.
We have state-of-the-art facilities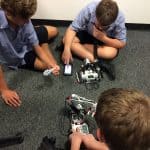 All of our facilities are modern and at the highest industry standard, across all areas from science to music and from Information Technology to Industrial Technology and Design. We have 2 computer labs, one PC and one mac, with professional software for students to work with. We have a fully equipped instrumental music department, with a grand piano, brass, woodwind and strings,  and our InTaD department makes good use of a plasma cutting machine among many other pieces of equipment which are used in the broader industry. We have a competition standard Rugby League field which is used in the official school NRL competitions. In IT, students learn about fields as interesting and varied as 3D printing, film and media, artificial intelligence and robotics
We offer an impressive range of subjects
MacKillop Catholic College has an extensive subject offering, including a dedicated core curriculum of the traditional foundational study areas of English, Mathematics, Science and Studies of Society and Environment, Religious Education, and a wide selection of more specialised elective subjects, including Visual Art, Dance, Drama, Music, IT, Food Technology, Industrial Design, Health and Physical Education, Rugby League, Japanese, Italian and Indonesian, among many others which can be found on our curriculum page. We will always endeavour to provide a subject if students wish to study it, and have even in some instances run classes with just one student in order to provide that student with the education they are seeking to attain.
We offer extensive extracurricular opportunities
Whether you are into sport, dance, music, adventure, volunteering, intellectual pursuits or creative and cultural activities, MacKillop offers something for you to enjoy and be challenged by, and we are always open to facilitating student-led initiatives to start new clubs and interest-based organisations. More information can be found on our extracurricular options page.
We have an amazing Inclusion Support Department
Specialist staff at MacKillop maintain a passion for creating a safe, supportive and stimulating environment for students with disabilities and those who require significant education adjustments in the mainstream classroom environment. Inclusion Support Staff also offer families and students support in social skills training, special provisions for national diagnostic testing, life skills, and support to transition from school to the workforce. More information on our inclusion support department can be found here.
We are a Registered Training Organisation
Through partner organisations such as Charles Darwin University and GTNT, our students have access to vocational education and training opportunities in fields from hospitality to trades. We are also now a recognised Registered Training Organisation ourselves, and will soon be offering certificate courses in Information Technology and Screen and Media. More information on our vocational education offerings and careers can be found here.
Please explore our website further to find out more about our College, and feel free to contact us.
Ready to enrol? Click here
Call Vanda on (08) 8930 5713 for more information on enrolment.