College Sports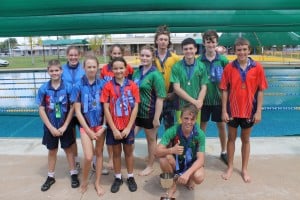 At MacKillop Catholic College we promote participation in sport and help students progress by overseeing and guiding them through junior, intermediate and senior levels across competitions inside and outside of school.
Our aim is to ensure MacKillop's culture is a strong one, with our students being proud to wear the MacKillop Sporting Uniform whilst representing our College at interhouse and interschool sporting competitions.
Every year we have our whole-College interhouse events for cross country, athletics and swimming, where students compete in their age groups and house groups.
MacKillop Catholic College also offers an extensive range of sporting opportunities for students to represent the College through the Palmerston and Rural Region School Sport (PARRS) interschool sports days.
Through our sports focused electives, including footy focus AFL and Rugby, as well as our Netball Academy, we aim to develop each individual's game and knowledge so they can improve their contribution at club level as well.
More information on Health and Physical Education as an elective subject can be found on the subject page here.
College Houses           
There are four houses at MacKillop which students are divided into. Points are awarded to the houses throughout the year at sporting carnivals, MacKillop Day activities and in general at discretion of principal for demonstration of the College's values.
The houses are:
McGrath (Blue)
McCormack (Red)
Hurley (Gold)
Confalonieri (Green)
More information on the people behind these house names can be found on the College Houses Page.
Students are required to wear their house colour uniforms on Fridays.
Interschool Sport
PARRS Region facilitates interschool sports days, with schools from the Palmerston, rural and remote schools in the Region invited to attend. Students aged from 9 -19 are all eligible to attend the various interschool sports days on offer. PARRS Region also facilitates the trials, selections, trainings and development of teams participating in the School Sport NT (SSNT) 12 Years & Under Championship program.
PARRS Dates 2018
Date
Sport
Venue
Accompanying Teacher
Thursday 22th Feb
Cricket (MS)
TBC
Mr Chris Kent
Thursday 22nd Mar
AFL (MS) (BOYS
Asbuild Sporting Complex
Mr Chris Kent
Friday 23rd Mar
AFL (MS) (GIRLS)
Asbuild Sporting Complex
Miss Grace Skehan
Wednesday 28th Mar
Rugby League (MS) (BOYS)
Warren Park Marrara
Mr David Graham
Wednesday 4th Apr
Rugby League (MS) (GIRLS)
Warren Park Marrara
Mr David Graham
Monday 9th Apr
Basketball (MS & SS)
Marrara Basketball Courts
Mrs Chiara Jones
Wednesday 11th April (Week 11) – CROSS COUNTRY
 
Term 2
Thursday 3rd May
Netball (MS & SS)
Miss Nakita Dendle
Friday 25th May
Touch (MS & SS)
Asbuild Sporting Complex
Miss Roxy Claire
Friday 15th Jun
Soccer (MS & SS)
Mr Chris Kent
Friday 22nd June (Week 9) – ATHLETICS CARNIVAL
Term 3
Tuesday 31st Jul                               
Athletics (MS & SS)
Miss Grace Skehan
Wed – Fri 5th – 7th Aug
Mountain Bike (MS)
Mrs Jade Cole
Friday 10th August (Week 3) – MACKILLOP FEAST DAY
Thursday 13th Sept                        
Orienteering (MS & SS)
Mrs Jade Cole
Friday 14th Sept
Swimming
Palmerston Pool
Miss Nakita Dendle
Thursday 6th September (Week 7) – SWIMMING CARNIVAL
Term 4
Thursday 25th Oct
Hockey (MS)
Marrara
Mr Paul Dimmick
Monday 5th Nov
Badminton (MS & SS)
Winnellie
Miss Beehuang Khoo
Thursday 15th Nov
Beach Volleyball (MS & SS)
Mrs Bonnie Morton
Download this calendar here: PARRS Calendar 2018
PARRS Permission Forms
Basketball Permission Form – 2018
Rugby League Permission Form – 2018
Soccer Trials Flyer Girls 2018
Touch Football Trials Flyer 2018
Interschool Sports days-Representing Mackillop Catholic College
The focus for interschool sports days is participation at any level. "Come and Try" philosophy is promoted at all of the days on offer. Students will have the opportunity to attend interschool sporting competitions and play against other schools in the area while representing Mackillop Catholic College.
See programs below for Cluster Interschool Sports Days
12 Years & Under Championship Program-Representing Palmerston Region
PARRS (previously PARCS) offers a representative program for students aged between 10 & 12 years old or turning 13 this year (excluding AFL and RUGBY LEAGUE) to attend the trials advertised to be considered for selection into the Palmerston and Rural Regional School Sport Team to compete at School Sport NT 12 & Under Championships.This event is then a direct pathway opportunity for students to be considered for selection into 12 & Under School Sport NT Teams. Students wishing to participate in this program must attend trials for possible selection. Sports currently offered for this program are Basketball, Australian Football, Rugby League, Football (Soccer), Netball, Tennis, Cricket and Touch Football.
Development/Selection Camps-School Sport NT
13 to 19 years students can nominate themselves through their region to be selected to attend the sport Development/Selection Camps held usually over a Friday/Saturday/Sunday period. Region ratios apply and all camps will be held in Darwin. At these Development Camps, local sporting bodies and interstate team officials will provide competitions, expert coaching, skills and PD sessions. An interstate squad will be selected and announced to represent School Sport NT at the School Sport Australia Championships.
Extracurricular Sporting Options
MacKillop Saints Sporting Organisation – Includes Rugby, Rugby League, Hockey, Basketball, and more to come!
MASH (MacKillop and Sacred Heart) Netball Club
MacKillop Catholic College Dance
Many other clubs of a wide variety of sports operate within the Palmerston region, including AFL, soccer and many other options. Please contact us if you would like more information.